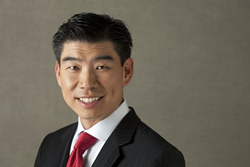 Obviously it is quite impressive that Evangi Plushenko was able to win an Olympic gold medal so soon after undergoing surgery for a herniated disc in his back.
Beverly Hills, CA (PRWEB) February 26, 2014
Thirty-one year old Evengi Plushenko has helped lead the Russian figure skating team to a gold medal in the team event. He did this despite having undergone artificial disc replacement surgery in January of 2013 to repair a herniated intervertebral disc in his back.
"Obviously it is quite impressive that Evangi Plushenko was able to win an Olympic gold medal so soon after undergoing surgery for a herniated disc in his back," said Hyun Bae, MD, a board-certified orthopedic surgeon at La Peer Health Systems in Beverly Hills, California. "However, the fact that Mr. Plushenko is able to do this is also a testament to how advanced and effective modern minimally-invasive spinal surgeries are."
Intervertebral discs are the soft, shock-absorbing tissues that rest between the vertebrae and cushion the spine. When these discs deteriorate – often due to age or injury – the gel-like core (nucleus) can bulge out through the thick outer layer (annulus). This herniation may lead to a range of painful and debilitating symptoms. Artificial disc replacement refers to the process of removing the damaged disc and implanting a prosthetic device in its place. The most common alternative to artificial disc replacement surgery is spinal fusion, a procedure that removes the damaged disc and fuses the vertebrae on either side together. This procedure, however, usually results in some degree of reduced back mobility.
"The advantage of artificial disc replacement over spinal fusion is that artificial disc replacement allows for continued movement between the vertebrae," explained Dr. Bae. For Evengi Plushenko, the artificial disc undoubtedly helped him retain the spinal flexibility he needed to compete with the best figure skaters in the world."
When asked if he would attempt to skate in the 2018 Olympic Games in South Korea, Plushenko refused to rule out the possibility.
Hyun Bae, MD, specializes in the treatment and repair of spinal disease along with minimally invasive microsurgery. He is a board-certified and nationally renowned expert in orthopedic surgery. In addition to performing outpatient surgery at La Peer Health Systems, he is the Director of Spine Education at the Cedars-Sinai Spine Center in Los Angeles.
La Peer Health Systems is an outpatient surgery center in Beverly Hills, founded by doctors and focused on providing excellent patient care alongside the most cutting-edge medical treatments available. With 40 world-renowned physicians in 13 specialties, we offer comprehensive medical treatment that takes patients from consultation to diagnosis, treatment, surgery, and ultimately aftercare. Our 13 medical departments include orthopedics & sports medicine, gastroenterology, head & neck surgery, colorectal & general surgery, podiatry, ophthalmology, pain management, plastics & reconstructive surgery, gynecology, spine surgery, interventional cardiology, bariatric surgery, and anesthesiology. Unlike large hospitals, La Peer's unique structure offers extremely personal care in a safe and controlled environment.
More information about La Peer Health Systems can be found at http://www.LaPeerHealth.com.