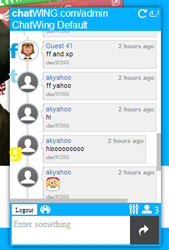 Chicago, IL (PRWEB) February 19, 2014
With the newest addition to Chatwing's chat software features, the users can now share their chatrooms in their Facebook, Twitter, Google and Tumblr accounts. Through this function, it becomes much easier for them for draw in more web traffic from that particular social networking site. This feature works perfectly hand in hand with Chatwing's social media chat app login features as subscribers of the said networking site can easily join in the chatroom simply by using their accounts.
Over the course of its creation, the developers of the Chatwing have continuously improved the capabilities of its chatting tool. Aside from the simple registration process, the website chat room has been designed to be very flexible with regards to its users' preferences. The social media sharing feature is no exception. Though it is a premium feature, by activating it, the users will be able to choose which social media sharing button can be used, what kind if sharing button will it be or the option to hide the buttons overall.
Regardless of it being a premium feature, the social media sharing buttons is usable by default. Chatwing chat software also has a lot of features that can be used without the need to purchase it. Aside from these, there are more premium features that are available for users if they want to further improve the performance of their Chatwing chatrooms.
About Chatwing.com
Chatwing.com is a company that has brought innovation to the modern chat widget. Operating for more than five years now, Chatwing and its team of developers have dozens of ideas ready to be introduced to the public. The Chatwing chat app is an easy-to-use online tool that can help web users interact with each other and can also generate continuous traffic. Chatwing will always be a freemium application for everyone.