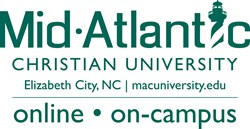 Mid-Atlantic Christian University is beginning a new chapter. It is very apparent that we must expand our online capability to meet the demands of today's student.
Elizabeth City, North Carolina (PRWEB) February 19, 2014
In today's ever-changing landscape of higher education, there is always one thing that remains the same. That one thing: online education continues to grow, and is more prominent than ever. According to the 2014 Babson Survey "Grade Change: Tracking Online Education in the United States," the number of students taking at least one online course has increased from 411,000 to a new total of 7.1 million. The survey also revealed that 90% of academic leaders believe that it is likely or very likely, that a majority of all higher education students will be taking at least one online course in five years' time.
Dr. Clay Perkins, President of Mid-Atlantic Christian University (MACU), is among those who have witnessed the constant growth and further need for online degree programs. "Mid-Atlantic Christian University is beginning a new chapter. It is very apparent that we must expand our online capability to meet the demands of today's student. And when we offer a global classroom, we will immediately broaden our appeal to students well beyond the Mid-Atlantic region," said Dr. Perkins. "Imagine a busy working adult, anywhere in the United States, hesitant to leave home to finish their degree. But now they can pursue this degree by enrolling online with MACU's Global Classroom. He can continue to provide for his family but also gain the Christian education and training he desires."
Appealing to Modern Students
As the proportion of higher education students taking at least one online course is at an all-time high of 33.5%, MACU has created high quality career-concentrated programs that offer solid growth and employment opportunities for the future. The MACU School of Professional Studies is intended for the adult student who has some college level experience but never finished a four-year degree. MACU is offering online bachelor programs in Organizational Leadership, Family Studies, Christian Ministry and Biblical Studies, and a bridge program for students needing to renew positive study habits.
Typical online students are busy working adults, who are currently employed in a professional position but want to expand their employment opportunities and career growth. These online students also might occupy a managerial position but want to obtain a degree for further professional advancement or may have faced challenges starting or completing a college education due to life circumstances or geographical constraints.
Distinction to Students
In addition to quality online education, Mid-Atlantic Christian University offers the following to their students:

High quality curriculum taught from the perspective of a Christian worldview
A degree that is competitive in value from secular institutions
Experienced admissions representatives and financial aid support representatives that explain financial options, including veteran's benefits and tuition reimbursement plans if you qualify and apply
Regional accreditation by the Southern Association of Colleges and Schools Commission on Colleges
Faculty-led courses taught by industry-experienced campus instructors and not adjunct facilitators
High quality reputation that has been preparing students to be leaders professionally and leaders in faith for 65 years
Smaller class sizes, creating an encapsulated learning environment
Busy adults seeking additional, quality online degree programs for career advancement should contact Mid-Atlantic Christian University by visiting elearning.macuniversity.edu or calling (855)-624-0856.