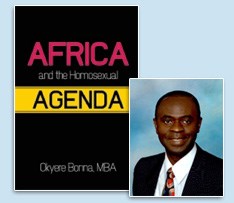 Africa & the Homosexual Agenda represents a rare and very pleasing example of what appears to be a growing African self-confidence and willingness to confront colonialism.
Charlotte, NC (PRWEB) February 19, 2014
Since 1994, United Nations has come out to speak against abuses that target lesbian, gay, bisexual, and transgender people. Many African countries, nevertheless, have continued to state emphatically that it cannot endorse or legalize same sex relationships despite the threat to link it to economic aid. The issue of accepting and accommodating homosexuals continues to be a big concern not only among African countries but the world in general.
The particular issue that this book examines is homosexuality, but the underlying thesis is much broader. It asserts that Africa has the basic right to make its own decisions on moral and social issues and that African leaders have a duty to follow the wishes of their people on such issues while respecting the rights and dignity of each person.
The author poses these questions and attempts to answer them:-
1. Should Africa endorse public expressions of same sex affection and recognize same sex marriage?
2. Is same sex marriage a human right issue or a moral and cultural issue?
3. Should Africa eliminate existing legislation which discriminates on the basis of gender preference?
4. Should Africa allow outside bodies to use aid to force it to do so?
The author also argues these are not as simple questions as the West would have us believe. "Africa & the Homosexual Agenda" represents a rare and very pleasing example of what appears to be a growing African self-confidence and willingness to confront colonialism. "Whether he is right or wrong is up to every reader to decide, but that he is willing to make his case openly and strongly is wholly admirable. For that reason Bonna gives a new sense of hope for Africa."
Okyere Bonna is a citizen of the United States who migrated from Ghana. Bonna holds an MBA & a Master of Science in Education degree from the Franciscan University of Steubenville, Ohio. He also holds a BA (with honors) in Political Science and Religions from the University of Ghana (U.G), where he served as the SRC Secretary (1989/90). He studied Social Sciences at University of Science & Technology (1986/87). Bonna is a columnist and the author and co-author of many books. Bonna currently serves as Executive Director of Calvary Community Medical Clinic, Inc. and a Radio Host of Good Evening America with Okyere Bonna on Harambeeradio and TV Network. For additional information or to request a sample copy contact CreateSpace at https://www.createspace.com/4538791