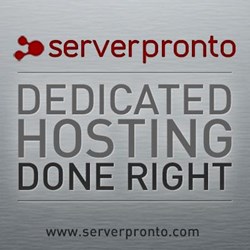 (PRWEB) February 18, 2014
As ServerPronto continues its customer service campaign, customers are reporting recent initiatives to drive satisfaction are paying dividends.
One example is VendorsBay.com, which is sort of like a cross between Facebook and eBay with a price comparison twist. The social e-commerce startup lets businesses publish and sell their products in 18 languages, 130 countries and through 145 comparison search engines automatically.
With an innovative e-commerce concept in mind, VendorsBay.com needed a dedicated server provider that could quickly scale to meet its growing needs—without breaking the bank. Steven Lustig, president of VendorsBay.com, turned to ServerPronto to service his global B2B/B2C escrow marketing arena and e-commerce hub.
"We were using CoreXchange colocation hosting out of Dallas but the service was so expensive. After researching the market, we decided to move our business over to ServerPronto," said Lustig. "Initially, we thought we'd use ServerPronto only for development but we've discovered it's a good solution for multiple productions so we decided to keep hosting the sites with ServerPronto's dedicated servers."
Before launching VendorsBay.com, Lustig used ServerPronto servers for various projects for more than four years. Lustig uses dedicated servers for his entrepreneurial ventures because they are ideal for any services that require high traffic, high security, and complex configurations like e-commerce, dynamic content, databases applications and multimedia apps.
"Companies like VendorsBay are driving innovation in the e-commerce industry," said Chris Kurzweg, CEO of ServerPronto, home to he world's most affordable dedicated server and cloud hosting solutions. "Part of our mission is to help growing companies meet their technology needs as they move into their potential. VendorsBay is a prime example."
Lustig looks forward to building on his relationship with ServerPronto as VendorsBay.com continues growing. Although dedicated server reliability and customer support are key factors in his decision to build and run VendorsBay.com on ServerPronto, price also plays a critical role.
"I get all the same services at ServerPronto that other server companies offer at a much higher price," Lustig said. "I'm paying half the price for the same servers at ServerPronto. There's no reason not to use ServerPronto's dedicated servers instead of competing brands. I save money every month without giving up reliability or support."
Click here to read ServerPronto case studies from satisfied customers.
About ServerPronto
ServerPronto currently has customers in 130 nations. ServerPronto, the hosting Subsidiary of Infolink, has been leading a low-cost revolution in the hosting industry since 2003. ServerPronto has broken the price barrier for cloud hosting in secured and reinforced Data Centers with redundant power, lightning fast fiber connections, and 24x7x365 support from a staff with more than 14 years of experience in operating data centers. Learn more at http://www.serverpronto.com.