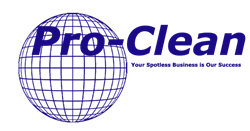 Their feedback has shaped our cleaning company through the years, and their faith in our ability to support them has sustained us. We look forward to continuing to serve our valued customers for many years to come.
Toronto, ON (PRWEB) February 18, 2014
Toronto-based Pro-Clean Janitorial Services (http://www.pro-clean.ca), a leading provider of essential business cleaning services for office, commercial and industrial companies, is celebrating its 20th anniversary of operations early next year. Two decades of experience have transformed Pro-Clean Janitorial Services from a new venture with big ideas into a prominent and successful cleaning service provider in the province of Ontario. Businesses across the Greater Toronto Area and Southern Ontario rely on the cleaning solutions offered by Pro-Clean to maintain a professional, clean and safe work environment.
Pro-Clean Janitorial Services launched in 1995, helping companies meet their business cleaning needs with professional janitorial solutions. Pro-Clean continues that mission today with a vast, experienced team of experts and a bonded, insured, supervised service. The company offers its services to businesses of all kinds including office buildings, commercial properties and industrial workplaces. Pro-Clean delivers its solutions to companies throughout the Greater Toronto Area and Southern Ontario, including Oakville, Mississauga, Vaughan, Scarborough, Pickering and Markham.
John Panousis, founder and president of Pro-Clean Janitorial Services has led the company through the last 20 years with continued success. John attributes his success to the wealth of knowledge he brings from almost 2 decades of experience in the industry and a focus on putting the clients first. His customer-focused approach has been a key factor in company growth.
"We at Pro-Clean Janitorial Services are thankful to our many clients for making our upcoming 20th anniversary possible," said John Panousis. "Their feedback has shaped our cleaning company through the years, and their faith in our ability to support them has sustained us. We look forward to continuing to serve our valued customers for many years to come."