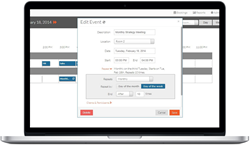 People today are used to getting information at their fingertips. There are no user manuals anymore — the expectation is that it will just work.
Vancouver , British Columbia (PRWEB) February 18, 2014
Its newly revised RoomTime room-scheduling software is now available for facilities and facility managers, Silvertip Software (http://www.silvertipsoftware.com) announced today.
A cloud-based application, RoomTime allows users to quickly and easily schedule meeting rooms, classrooms, conference rooms and resources from their computer. A beta version previously was made available to a select group of organizations through an Early Adopter Program that allowed participants to test-drive the app. Based on that program, which generated substantial positive feedback, the new room and resource scheduling application has officially graduated from "beta" to "full release."
Although it's now cloud-based, RoomTime initially was launched as a desktop program in 1997, and became a web application in 2008. The room and equipment scheduling software is used by schools, universities, community centres, churches, theatres, hospitals and office-sharing facilities throughout Canada, the United States, Mexico, Australia and Great Britain.
RoomTime is equipped with an intuitive, user-friendly calendar interface, as well as flexible room set-up and configuration options. Resources such as A/V equipment, furniture and other items can be seamlessly added to room bookings and tracked. Facility managers, meanwhile, benefit from fast and timely reports on room and resource usage.
According to Silvertip CEO Harvey Tremblay, RoomTime's new, more intuitive design is a major advantage. "Simplicity and elegance in software design is really important," he says. "People today are used to getting information at their fingertips. There are no user manuals anymore — the expectation is that it will just ''work.' The software might be doing something complicated in the background, but for the user, software needs to be easy — easy to set up, easy to navigate, easy to retrieve the data you need to make informed business decisions. Although it's very sophisticated, the new version of RoomTime is designed to be 'easy.'"
Customer feedback so far has been very positive. In response to user demand, the company has added new features such as the ability to access the RoomTime schedule with GoogleCal and Outlook — including access from mobile devices. It also has enhanced recurring booking capabilities to suit organizations with meetings that recur on an irregular basis. Additionally, the company is working on adding an invoicing module that will streamline booking, invoicing and payment processing, further increasing facility administrators' productivity.
Because RoomTime user Reece Cho of The BackDr Chiropractic in Vancouver, BC, needed a solution for scheduling the treatment rooms in her medical practice, she signed up for the RoomTime Early Adopter Program. She can now organize the schedule for all treatment rooms, track which clients are booked, and track where and when equipment is needed. RoomTime "is easy to use and user friendly," she says. "I have no computer training and this is really easy."
In Canberra Australia, Kippax Uniting Church has been using a desktop version of RoomTime since its debut in 1997. Erin Miller, who relies on RoomTime to manage Kippax's room schedules, decided to give the new web version a try. "The new RoomTime has some great features and is easy to use," she says. "The layout is clean and the site is easy to navigate."
Schools and universities find RoomTime especially good at tracking equipment and resources used in classrooms. Similarly, office sharing spaces often get overlapping requests for equipment like projectors. RoomTime combines the room and resource scheduling into one seamless application, avoiding duplicate tracking systems and eliminating scheduling conflicts.
RoomTime may be used risk-free during a free 30-day trial period. No credit card is required. The free trial period provides full access to all of the software's features, including those offered only to Premium users. To sign up, visit http://www.roomtime.com.
###
CONTACT INFORMATION
Contact E-mail: info(at)roomtime(dot)com
Source: Silvertip Software, Inc.
Phone: 604.568.9730 / 1.877.847.1440
Address: 901-470 Granville St., Vancouver, BC
Postal Code/Zip: V6C 1V5
City/Town: Vancouver, British Columbia, Canada
Industry: Software Development
Sign-up: http://www.roomtime.com