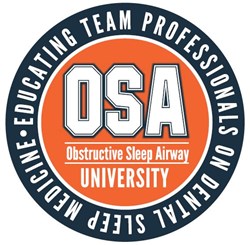 Our goal is to educate, motivate, and empower dental team members so they are able to help dentists spread sleep apnea health awareness.
Willowbrook, IL (PRWEB) February 18, 2014
IDEA Comm, Inc. officially launched OSA University in August of 2013 to assist dental sleep medicine practices in educating team members on the importance of a healthy open airway. OSA University's online curriculum features sleep fundamentals, patient communication, scheduling architecture & administrative office procedures, billing medical & Medicare insurance, case presentation, and exceptional therapy protocol.
On Monday, February 10, 2014, OSA University opened its virtual doors for student enrollment. The university is now accepting applications for the enrollment of OSA-U Dental Sleep Team Member certification program.
"The University was created from a belief that dental sleep medicine should be 90% team driven. Our goal is to educate, motivate, and empower dental team members so they are able to help dentists spread sleep health awareness," says Founder Elias Kalantzis. OSA University includes presentations, workbooks, templates, forms, examples, quizzes, and final exams for continuing education (CE) credits. Students are also eligible for achievement awards that serve to highlight the curriculum progression and participation.
Upon completion of the courses and satisfying final exam grade requirements, team members graduate from the university and OSA-U Alumni status is achieved. OSA-U Alumni is an elite status for dental sleep team members and an inspiring platform for continued team motivation provided through monthly, quarterly, and yearly challenges. The platform unites OSA-U graduates across the country and serves as a virtual space for sharing success stories, strategies and dental sleep team experiences.
Glennine Varga, Director of Team Education states, "Providing education and team training is essential to the success of a dental sleep practice. I am excited to be a part of an organization solely focused on team training and am thankful for the opportunity to be involved in the University."
For more information on OSA University please visit OSAUniversity.org or email the university enrollment office at info(at)osauniversity.org.