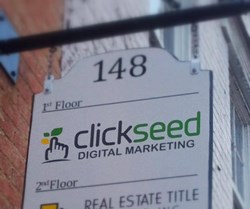 Frederick, Md. (PRWEB) February 18, 2014
ClickSeed, a search engine optimization (SEO) and digital marketing agency based in Frederick, Md., is pleased to announce their relocation from Cowork Frederick to their new location on Patrick Street in Frederick, Md. The move will allow the business to continue to expand and grow their operations. ClickSeed Founder Jim Robinson says that the expansion is representative of the direction the digital marketing industry is moving towards.
"Companies are realizing that a well-executed digital marketing strategy increases the value of their website and business. If you want to be found online—and everyone does—then integrating and optimizing all of your online marketing efforts is absolutely critical to success," says Robinson.
Robinson has 13 years of experience in the industry, ranging from bootstrapping an ecommerce company to growing audiences and revenue for some of the most recognized brands. Now his main focus is assisting clients worldwide to successfully build their audiences through integrated digital marketing campaigns. Notable clients include NASDAQ, Rolling Stone and Us Weekly.
SEO, a process that maximizes the number of visitors to a website by making sure the site appears high on the list of results by a search engine, is essential to staying competitive online. "At this point, SEO is the price of admission. It's got to be baked into everything," says Robinson. Although he has earned a reputation as an SEO expert by generating hundreds of millions of search referrals for his clients over the past decade, SEO is just one of the many services that Robinson and his team at ClickSeed offer. The company offers fully integrated digital marketing solutions including paid search management, content creation, social media management, marketing analytics, and digital strategy consulting services.
As part of their expansion, ClickSeed also announces the launch of their new website, optimized for search by Robinson himself, and designed by Octavo Designs, a graphic design firm in Frederick, Md. "Our new website is exactly what we'd suggest for our clients: a website that adapts responsively to different devices, that offers rich content with quick performance times, and that's based on a solid infrastructure with an easy to manage content management system," says Robinson. The website also demonstrates ClickSeed's full range of capabilities, highlights client case studies and features regularly updated blogs on topics related to digital marketing.
For more information about ClickSeed, visit their website at http://www.clickseed.com or call 301-228-2432.
About ClickSeed:
ClickSeed is an SEO and digital marketing agency based in Frederick, Md. Owned and operated by Jim Robinson, ClickSeed works with clients such as NASDAQ, Rolling Stone and Us Weekly to successfully grow their audiences through a full range of integrated digital marketing services.