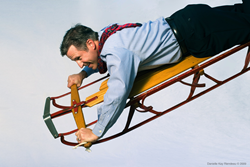 Create that inner sense of urgency to achieve your goals now, even if it means turning off the Olympics on TV.
Chicago, IL (PRWEB) February 25, 2014
These Sochi Winter Games have given viewers a front row seat into the minds and training strategies of world class athletes. East Wing Group introduces eleven Olympic strategies for business success. These same strategies for peak performance have application for business professionals to become more successful.
"We all are searching to find those activities in life that give us the thrill of winning a gold medal," says Dr. Russ Riendeau, Sr. Partner of the retained search firm, East Wing Group, Inc. "Start by doing one small activity--even if it means turning off the event on TV to work towards your gold medal."
Here are 11 ideas to implement into our daily lives:
1. Singular focus—We can't be all things to all people. Trust one's instincts and practice/build/service in arenas we know we can compete effectively and profitably in today's marketplace. What is it that a person is good at that will sustain a person business in challenging economic times? Stay committed to the basics until one has developed the skills or available cash to learn/experiment/outsource our next project.
2. Develop positive routines—Routine-building such as writing down tonight what the plan for tomorrow will be. Meeting with key customers, reading up on one's industry, or scheduling vacation time are critical habits that build in consistent performance and help prevent lazy habits and distractions.
3. Set goals—private and public. Research shows people who set goals accomplish more, feel better about their daily work, appreciate the work discipline and are more likely to earn higher incomes.
4. Follow natural skills and desires—Study what one's natural and strong skills are in business, personal, social, intelligences, sports, study habits, and the like. Seek ways that you can blend your natural skills into your business practice, personal relationships, and goal setting.
5. Listen to music—Practice visualizing your successful actions and rehearse every move. Study the game films. Research shows certain music helps us reduce workplace stress, increases healthy production of body chemicals such as endorphins to enhance mood, relax and improves respiration, lowers blood pressure and enhances desired emotions.
6. Live in the moment—The time to act is now. The time to live is now. The time to run, call a friend or client, design a new part, write a check to your saving account, wash your car, tell a colleague they're doing a great job, is now. Act as if today is the most important day on the way to attaining your dreams.
7. Eat Well—Healthy food is essential to improved energy, concentration, safety, attitude, setting a great example for your family and associates, enhanced sexual performance, as well as reducing risk of heart disease, diabetes and certain cancers.
8. Exercise to keep energy high—If we don't exercise you will not perform at the highest levels we are capable of in business or personal development. Exercise improves our overall self-image.
9. Appreciation—Thank those around us that have helped get us to where we are in life. We don't succeed by ourselves.
10. Strive for personal best—Join the TOP 10% CLUB. It's easy to figure out what the top 10% is in anything. We don't have to take first place every time to be a winner.
11. Time management—Winners don't watch TV to kill time or live vicariously through athletes. We have our own life dreams to prepare for. Winners watch a few minutes and then go to work on their goals. They read, study, exercise, eat a banana instead of a donut. They make an extra sales call, double check their work, clean the basement or paint the house to raise their home value.
Russ Riendeau, PhD, is a behavioral scientist and founder of the retained search practice, East Wing Group, and business author of the new audiobook, First Hide The Poison Arrows: A 3-point strategy to drives sales and leadership effectiveness in our post-recession economy.
For more information, call 847-381-0977.