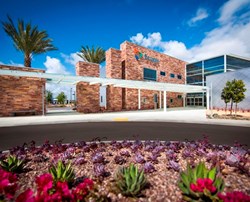 "We're essentially breaking down each tumor into thousands of tiny cubes, and then 'painting' each cube with radiation." Carl Rossi, M.D.
San Diego, Calif. (PRWEB) February 19, 2014
Until recently, cancer patients looking for the most precise form of proton radiation therapy – "pencil-beam scanning" – had to narrow their search to about a half dozen centers in the United States that offer this treatment on a limited basis.
Today's opening of the Scripps Proton Therapy Center in San Diego, Calif., marks the first time that a proton center in the United States is treating patients exclusively with this ultra-accurate technology, in every treatment room.
"Pencil-beam scanning enables doctors to treat larger and more complicated tumors, while sparing more normal tissue and producing about one-tenth as many carcinogenic neutrons compared to traditional proton delivery," said Carl Rossi, M.D., the center's medical director. "We're essentially breaking down each tumor into thousands of tiny cubes, and then 'painting' each individual cube with radiation, layer by layer."
Scripps Proton Therapy Center is the nation's 15th proton facility. When fully operational, the $220 million center will have the capacity to treat up to 2,400 patients annually. Scripps Health provides the center's clinical management and Scripps Clinic oversees the medical services. Advanced Particle Therapy is the center's developer and owner.
'Painting' radiation onto tumors
Today, most proton therapy is delivered using the traditional "passive scatter" approach, in which the beam is shaped to match the tumor after exiting the treatment nozzle. With passive scatter, the beam passes through specially manufactured devices to form the beam's height, width and penetrating depth, before entering the patient.
Pencil-beam scanning is more precise and versatile than passive scatter. Instead of using physical devices outside of the treatment nozzle, pencil-beam technology electromagnetically shapes the beam inside the nozzle via computerized data files, developed from 3-D models of patients' tumors.
"Using pencil beam to treat tumors is like using a very fine paint brush to apply the radiation, whereas earlier proton technology is more like using a can of spray paint," said Dr. Rossi.
A look inside the center
Scripps Proton Therapy Center is designed with five treatment rooms, three of which include gantries, which rotate around the patient 360 degrees to allow treatment from any direction. The center's other two rooms are designed with fixed-beam machines. The facility is currently treating patients in select rooms and projects commissioning and clinical use of all treatment rooms in 2014. The center offers on-site access to the sophisticated imaging technology needed for accurate tumor targeting, including CT and PET-CT scanners and an MRI machine.
The 102,000-square-foot facility will be a resource not only to Scripps physicians and their patients, but also to Rady Children's Hospital-San Diego and UC San Diego Health System, whose affiliations with Scripps Health was announced at the center's grand opening today.
"The Scripps Proton Therapy Center brings to patients in this region and beyond one of the most advanced, accurate treatments available for cancer care," said Chris Van Gorder, Scripps president and CEO. "The center exemplifies innovation and collaboration, and we are proud to bring this life-saving technology to our region with our affiliates."
Less healthy tissue affected
The primary benefit of proton therapy – whether delivered by pencil beam or passive scatter – is its ability to treat patients with a substantially lower total radiation dose to normal tissue, compared to the latest X-ray technology. "X-rays penetrate entirely through the body, whereas a proton beam can be controlled to stop where the tumor stops," said Dr. Rossi. "This is important, because less radiation to healthy tissue means patients are more likely to tolerate their treatments better and are less likely to have problems in the long run related to their treatment."
For example, compared to X-rays, a proton beam can effectively target prostate cancer tumors with less exposure to the bladder, rectum and small intestine. With breast cancer, it can treat the left breast without exposing the heart to radiation. And with lung cancer, protons will spare more of the patient's spinal cord, esophagus and bone marrow.
"As more survivors are moving on to a life after cancer, we need to be cognizant of the effects that unnecessary radiation exposure may have on their health and well-being years down the road, such as chronic disease or treatment-related cancers," said Jeff Bordok, CEO of Advanced Particle Therapy. "The precision offered by proton therapy means patients may enjoy a healthier survivorship later."
Varian Medical Systems of Palo Alto, Calif., developed, installed and validated the center's ProBeam proton delivery system.
More information about Scripps Proton Therapy Center is available by calling 858-549-7400, or by visiting http://www.scripps.org/protonpr.
ABOUT SCRIPPS HEALTH
Founded in 1924 by philanthropist Ellen Browning Scripps, Scripps Health is a nonprofit integrated health system based in San Diego, Calif. Scripps treats a half-million patients annually through the dedication of 2,600 affiliated physicians and 13,500 employees among its five acute-care hospital campuses, hospice and home health care services, and an ambulatory care network of physician offices and 26 outpatient centers and clinics.
Recognized as a leader in the prevention, diagnosis, and treatment of disease, Scripps is also at the forefront of clinical research, genomic medicine, wireless health care and graduate medical education. With three highly respected graduate medical education programs, Scripps is a longstanding member of the Association of American Medical Colleges. Truven Health Analytics (formerly Thomson Reuters) has named Scripps one of the top five large health systems in the nation. Scripps is nationally recognized in six specialties by U.S. News & World Report, which places Scripps' cardiovascular program among the top 20 in the country. Scripps has been consistently recognized by Fortune, Working Mother magazine and AARP as one of the best places in the nation to work. More information can be found at http://www.scripps.org.