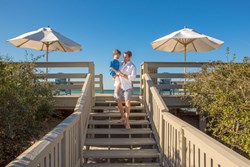 Rosemary Beach is the spring destination for families seeking memorable moments bathed in turquoise water and dusted with soft, sugar-white sand.
Rosemary Beach, FL (PRWEB) February 18, 2014
Spring break beach vacations are a long-standing tradition for many families. In Rosemary Beach along Scenic Highway 30A in Northwest Florida, families park the car and spend the week walking or biking to their next relaxing activity. With its cobblestone streets, a vibrant town center and private access to one of the world's most beautiful beaches, Rosemary Beach is the spring destination for families seeking memorable moments bathed in turquoise water and dusted with soft, sugar-white sand. Rosemary Beach celebrates spring with time-honored events and activities that families relish. In addition, families who plan their visit for late spring are rewarded with vacation specials and packages. From April 21 through May 17, guests who rent three nights or more in a carriage house, loft or flat, receive an additional night free.
Founded in 1995, Rosemary Beach is renowned for its stunning Caribbean-Colonial architecture, lush greens, quaint streets, shaded walking paths, boutique shops, and delectable cuisine. In addition to enjoying the town's breathtaking beaches and notable European charm, visitors may choose from a full calendar of family-friendly events offering something for everyone. Each Monday, Sinfonia's woodwind quintet delights families by bringing Prokofiev's classic tale. Peter & The Wolf, to life through musical storytelling. The Seaside Repertory actors come to town each week, entertaining families through storytelling and a weekly theatrical production of Androcles and the Lion. Movie nights and live musical performances round out the weekly activities, and surprise pop-up events add to the intrigue of this charming beachside town. Special events including West Indies markets, a bocce tournament and Easter Egg Hunt are anticipated annual traditions each spring.
In addition to the planned events, The Merchants of Rosemary Beach present an abundance of upscale shopping options ranging from art, home décor and gift items to apparel and toys. The town's diverse dining options, range from casual fare at local cafes to sweet treats and ice cream to deliciously fresh cuisine at several revered fine-dining restaurants. The Town Center is complemented by world-class amenities, including a top ranked tennis facility, 2.3 mile fitness trail, lush greens, a butterfly garden, playgrounds, bicycle rentals, and full-service day spa.
Guests of Rosemary Beach Cottage Rental Company enjoy full access to four distinctively designed heated pools, a state-of-the-art fitness center, and nine private beach walkovers as well as unlimited DVD rentals. Lodging options range from quaint carriage houses to cozy lofts and flats to spacious cottages and homes. Each well-appointed Rosemary Beach vacation rental is stocked with Aveda bath products and exclusive Rosemary Beach coffee, and features a full kitchen and laundry facility. Cottages and carriage houses are all individually-owned and reflect the owner's personality. Many feature upscale amenities such as private splash pools, courtyard gardens, fireplaces, sprawling gulf-view verandas, sleeping porches, outdoor living spaces, terraced hot tubs and other distinctive details.
From April 21-May 17, Rosemary Beach Cottage Rental Company is featuring a Spring Special. Book three nights or more in a carriage house, loft or flat, and receive an additional night free*, or stay in the recently renovated Pensione Inn, a boutique hotel, starting at just $189/night.* To learn more visit http://www.RosemaryBeach.com or call (855) 393-1373.
*Special offer valid for bookings on or between April 21- May 17, 2014. Offer does not apply toward existing reservations; valid only on select properties; subject to availability.
About Rosemary Beach
Located on Northwest Florida's Scenic Highway 30A and named for the native herb that grows abundantly throughout the town, Rosemary Beach is a walkable 107-acre beachfront town. Established in 1995, Rosemary Beach offers the perfect blend of New Urbanism and European charm. Noted for its architecture and design, along with its private, sugar-sand beach, Rosemary Beach boasts plentiful shopping, dining, tennis, fitness and pampering options for residents and vacationing guests, all within a short stroll or bicycle ride from well-appointed accommodations. For information on vacations, real estate and town amenities, visit rosemarybeach.com.
###