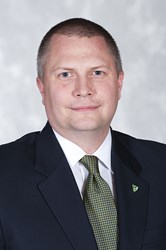 Noah's commitment to the Manhattan College student-athlete experience combined with his administrative expertise and skill make him an asset to the College.
Riverdale, NY (PRWEB) February 17, 2014
Noah LeFevre, currently Manhattan College's senior associate director of Athletics, will become the next director of Athletics at Manhattan College, it was announced today by President Brennan O'Donnell and Vice President Richard Satterlee, who led the national search. LeFevre will replace current Director of Athletics Robert J. Byrnes '68, who will retire in June 2014 after serving in the position for 26 years.
A formal press conference will be held in Draddy Gymnasium on Wednesday, Feb. 19 at 2 p.m. on the Manhattan College campus.
"Noah's commitment to the Manhattan College student-athlete experience combined with his administrative expertise and skill make him an asset to the College," Manhattan College President Brennan O'Donnell stated. "I wholeheartedly support Noah's appointment as our next director of Athletics. We are impressed by his strategic vision, work with head coaches and his overall commitment to the program and the College."
LeFevre has served as the senior associate director of Athletics since January 2012. In that position, LeFevre is responsible for the athletic department units of intercollegiate sports, academic support, development, facilities and event management, compliance, athletic training, equipment services and human resources. He supervises Manhattan College's intercollegiate athletic programs and works with all of Manhattan's head coaches on scholarship allocation, contest scheduling, hiring of assistant coaches, fundraising, budgeting, roster sizes, travel and strategic planning. In 2012, LeFevre developed a seven-year strategic athletic scholarship plan that is aimed at improving the program's overall level of athletic competitiveness.
"I thank President O'Donnell for having the confidence in me to lead this historic program," LeFevre said. "I also want to thank the search committee, led by Vice President for Student Life Dr. Richard Satterlee, for its faith in me. I am honored to work in an environment that I view as a special place where student success is the top priority. I am most humbled to follow in the footsteps of Bob Byrnes and continue to build on the foundation he has created the last quarter century."
While at Manhattan, LeFevre spearheaded the creation of the Jasper Athletic Club (JAC), Manhattan Athletics' official fundraising arm, in the summer of 2012. He also led the refurbishing of Draddy Gymnasium in the summer of 2012. LeFevre led the funds for and oversaw the construction and installation of new batting cages, storage areas, scoreboards, facility signage and branding, facility painting, as well as locker room and office upgrades and renovations.
Prior to coming to Riverdale, LeFevre served as the director of Intercollegiate Athletics at The College of Brockport in Brockport, N.Y. While at Brockport, LeFevre oversaw the day-to-day operations of a 23-sport athletic program that served more than 625 student-athletes and an extensive fleet of athletic facilities with 12 different competition venues, including Eunice Kennedy Shriver Stadium, the largest on-campus sporting venue among Division III institutions.
LeFevre has also served as an associate director of Athletics at New York University (NYU), where he was responsible for athletic department marketing, facilities, revenue generation and capital planning. He also was the project manager for the internal design and construction, and then as director of NYU's Palladium Athletic Facility, an 80,000-square foot complex that sees more than 2,300 daily patrons. During his time at NYU, eight different athletic teams finished in the top four nationally, including a 2007 Division III National Championship in men's cross country. For his hard work and dedication to the department, LeFevre received the NYU Distinguished Administrator Award in 2007, the highest recognition an NYU administrator can earn.
LeFevre holds an MBA from NYU's Leonard N. Stern School of Business, and a master's degree in sports management from NYU's Robert Preston Tisch Center for Sports Management, along with a bachelor's degree from NYU. He also holds a certificate from the Sports Management Institute (SMI), the premiere athletic administrative development academy in the country. LeFevre completed his SMI program on the campuses of the University of Michigan and the University of Texas.
LeFevre and his wife, Hayley Gershengorn, M.D., reside in Manhattan.
###
About Manhattan College:
Manhattan College is located at West 242nd Street near Broadway in the Riverdale section of the Bronx, one mile from the Westchester County line and accessible by MTA subway line No. 1. For directions to the campus, visit http://www.manhattan.edu.
Founded in 1853, Manhattan College is an independent, Lasallian Catholic, coeducational institution of higher learning offering more than 40 major programs of undergraduate study in the areas of arts, business, education and health, engineering and science, along with continuing and professional studies, and a graduate division. For more information about Manhattan College, visit http://www.manhattan.edu.
Press Contact:
Pete McHugh
Assistant Director of Athletics/Athletics Communications
email: peter(dot)mchugh(at)manhattan.edu
phone: (718) 862-7228