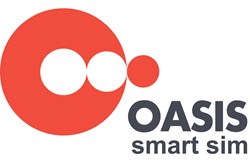 Olivier Leroux, Oasis Smart SIM CEO says: 'The fact that Babilon Mobile chooses Oasis Smart SIM is a recognition of our expertise and ability to serve leading mobile network operators with our full range of services.'
Paris, France (PRWEB) February 19, 2014
Babilon Mobile, the largest operator of mobile communication services of Tajikistan, has selected Oasis Smart SIM as its trusted partner especially for 3G SIM cards services. Oasis Smart SIM has already started to deliver the O-Classical SIM range to Babilon Mobile for its services in GSM 900/1800, 3G-UMTS/3,5 HSDPA and shall support the migration towards 4G/LTE.
Thanks to a high level of expertise and being well-established in Russia and CIS market, as well as the company's ability to propose adapted quality products and services, Oasis Smart SIM was able to settle a confidence relationship with Babilon Mobile. Moreover, as Oasis Smart SIM masters the entire SIM value chain, from the Operating System ownership to the final SIM card packages, and offers solutions to the complete SIM life cycle management, which are their main proofs of expertise, quality and flexibility, Babilon Mobile has chosen Oasis Smart SIM for recurring orders in 2014.
Bekhruz Fayzullaev, Chairman of Board of Directors at Babilon Mobile declares: "We are happy to have selected Oasis Smart SIM as their strong and reliable local expertise in the CIS region means we benefit from their support for the deployment of new services allowing us to deliver more services to our customer base. Thanks to their local presence and long experience in the industry, they are reactive and flexible in adapting to the evolution of our customers' demand."
Olivier Leroux, Oasis Smart SIM CEO adds: "The fact that Babilon Mobile chooses Oasis Smart SIM is a recognition of our expertise and ability to serve leading mobile network operators with our full range of services. Oasis is a company which always keeps on expanding its offer covering the whole SIM value chain, and is committed to permanently propose new solutions and adapted services to mobile network operators."
Oasis Smart SIM, member of the GSMA and SIMalliance will be present at the Mobile World Congress, in Barcelona, on February 24-27, 2014, in the Hall 2, stand 2I20MR. It is the opportunity for them to showcase their new products and solutions demos, and meet with the industry main players.
About Oasis Smart SIM
Oasis Smart SIM is a SIM card supplier and mobile solutions provider, member of SIMalliance and GSMA. As a system integrator, Oasis Smart SIM provides solutions to Mobile Network Operators for the entire SIM value chain. Oasis Smart SIM relies on its expertise on operating system, digital security and subscriber acquisition to propose products and services for 3G, LTE, NFC, M2M and mobile commerce. With advanced and innovative solutions in the field of SIM, SIM life cycle management and customer activation, Oasis Smart SIM guarantees an optimized cost of acquisition while maximizing the services offered through the support of local experts, custom designs and secured solutions.
About Babilon Mobile
CJSC "Babilon-Mobile" is the largest operator of mobile communications services of Tajikistan. The Company provides the widest range of up to date services in standards GSM 900/1800, 3G-UMTS/3,5 HSDPA/4G-LTE. The commercial launching was implemented on January 1st, 2003. The number of subscribers of the Company is more than 3 000 000 ones. On July 1st, 2005 for the first time in a history of telecommunication market development of Central-Asian region and CIS countries, it was commercially launched the Network of new standard 3G-UMTS. The successful launching of 3G Network allowed to Company to expand the number of rendered services. In addition to video calls and 3.6Mb/ps Internet, the customers may enjoy such services like: SMS, MMS, Voice-mail, Call register, WAP, GPRS, Prepaid card, Call Center, SM$-Money, ICQ-SMS, Roaming, Content-services, games and etc.