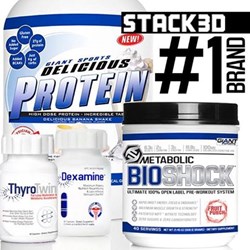 (PRWEB) February 18, 2014
STACK3D has counted down the 'Top Five' brands in Sports Nutrition for 2013 at their website. For those who have been waiting and wondering what company took home top honors on the list of best brands from 2013, STACK3D has selected Giant Sports Products (http://www.giantsportsproducts.com) of Brick, NJ as the #1 brand in Sports Nutrition for 2013. The competition was fierce and while there were strong cases for other sports nutrition companies to take the #1 seat, the staff at STACK3D felt there was none better than Giant Sports in 2013. In the past twelve months this relatively new brand proved that they were more than a one hit wonder, going on to show that they continue to create hit product after hit product non-stop.
STACK3D first discovered Giant Sport's when they had just two supplements in their line, Delicious Protein® and Dexamine®. While the staff did eventually try the five different Delicious Protein flavors - and the product absolutely lives up to the name - it was when STACK3D finally got a shot at the energizing fat burner that the staff knew this brand was the real deal. STACK3D's review of Dexamine, showed that the product does just as its bottle describes, delivering to the user both a powerful energetic and thermogenic experience. As for the Delicious Protein, it also did as per its description, becoming one of the best tasting protein formulas ever reviewed. The 'deliciousness' was carried over from the 2012 launch of Giant's Delicious Protein in Chocolate, Vanilla and Cookie-n-Creme flavors to the two new 2013 flavor releases of Peanut Butter Chocolate and Banana.
So after an early start in 2013 that spread the applause of Giant Sport's Delicious Protein even further, as well as substantial attention to the weight loss supplement Dexamine, rumors surfaced that the brand was looking to get into the preworkout powder game. The task Giant had before them was not an easy one. That being said with two top performers already in their arsenal, STACK3D and likely many others around the globe had very little doubt in the brand pulling off a little magic in this already saturated category.
It wasn't until early August 2013 that the name Metabolic Bioshock™ came to light as the confirmed title of Giant Sport's preworkout SKU. Upon its release soon after, Bioshock was as promised: a clinically dosed supplement with 100% label transparency. Glutamine Nitrate, CoQ10, Instantized & Micronized BCAAs along with higher doses of Vitamin K and Pantothenic Acid (among the usual suspects like Creatine and Taurine) Bioshock contains one of the more unique mixtures with ingredients not seen in any other products in class for some time or some cases, ever.
Without even trying Bioshock the staff at STACK3D already felt like congratulating Giant Sports. Giant actually did a lot of research and leg work in developing this one-of-a-kind supplement, a preworkout product unlike anything else on the market. With all the high stimulant fueled formulas that are short on other ergogenic qualities that have become the current trend in the industry, Giant Sports went in a different direction and spoke that Bioshock would be so different that there really would be no true competition for the product. Sticking to their guns and releasing a product that answered all their claims, after six months Bioshock has still yet to see an equal.
Bioshock was eventually reviewed by the STACK3D staff (http://www.stack3d.com/2013/12/giant-metabolic-bioshock-review.html), where it came as no surprise that the product delivered on Giant's promises. Going from use to use, Bioshock is a product of many exciting effects. Endurance, pump, taste, energy, focus, and even the ability to enhance strength through a calming stimulation. Giant's formula had it all. It's balance and entry into the ranks stands as a great alternative for those who don't merely desire a hyper-stimulant laden supplement that most other brands offer, while delivering a physical performance on par with or even exceeding the best.
As 2013 winded down a close, Giant Sports quietly unveiled one more innovation for the year, Thyrotwin™. The open-labeled, two ingredient fat burner is next on the review roster at STACK3D and has already received rave reviews from consumers and professionals alike. If Giant follows through on half of what this supplement promises, its value is going to win over the hearts of weight loss enthusiasts everywhere.
Over all contenders, the reason the staff at STACK3D put Giant Sports at Number One on the list is because of the brand's reliable consistency. Not once in the year did they miss a mark, fall through on a release date, or fade away into the background of the highly competitive sports nutrition market. The brand stayed relevant, they continue to please, and had zero fails in 2013. For sure, Giant Sports follows the beat of its own drum, which was clearly demonstrated in 2013. This makes Giant Sports not just an innovative brand, but one that is inspired by its own set goals and rules. Qualities that we feel Giant Sports can claim as uniquely its own.