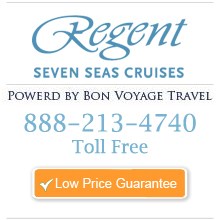 Tucson, AZ (PRWEB) February 19, 2014
As a preferred partner of Regent Seven Seas, Regent Cruises Sale, the online cruise sale division of Bon Voyage Travel, is pleased to announce that Regent's 2015 Summer Collection is now open for booking beginning February 18, 2014. These sailings run from May 2015 through December 2015, and reach every corner of the globe. Destinations for the Summer Collection include: Northern Europe and the Baltic, the Americas and the Mediterranean, as well as Asia and Africa.
Seven Seas Voyager will visit exciting new ports during its Northern Europe itineraries, including Malmö, Sweden; Tyne (Newcastle), England; and the Solovetsky Islands in Russia. Later in the season the Voyager does a series of Mediterranean cruises before continuing to Dubai, East Africa and finally on to Asia.
There will be more choices available in the Mediterranean than ever before thanks to the Seven Seas Mariner. New ports of call include Trieste, Italy; Almería, Spain; and Gythion, Greece. Later in the season she sails the coast of western Africa with an inaugural call in São Tomé before continuing onto South Africa. For the 2015 Summer Collection, there will be special child fares (for passengers eighteen years of age and under) on fifteen Mediterranean and Northern European voyages.
Seven Seas Navigator will explore the wonders of Alaska and will embark on a 21-night itinerary that begins in San Francisco, transits through the Panama Canal and concludes in New York City. From there the ship will visit Canada and New England to see the colors of fall and then finally arrive in Miami for the winter Caribbean season.
RegentCruisesSale.com's online cruise consultants are specifically trained to support Regent cruises and have received extra training from key Regent employees. They assist with all aspects of a client's travels, and are able to get clients additional discounts and amenities. They can help clients learn about these new Regent Seven Seas Summer sailings and itineraries beginning February 19, 2014. Visit RegentCruisesSale.com to see all the Summer 2015 Regent sailings.
About the Author:
Regent Cruise Sale is one of the online Cruise Sale divisions of Bon Voyage Travel, a travel agency founded in 1976 in Tucson, Arizona. With over 35 years leading the travel industry, Regent Cruise Sale offers additional amenities and superior service to those seeking the best cruise experience. Since Regent Cruise Sale launched in September of 2010, Cruise Sale has expanded to operate eight dedicated online cruise sale websites, which successfully serve thousands planning their cruise vacation at the lowest price.