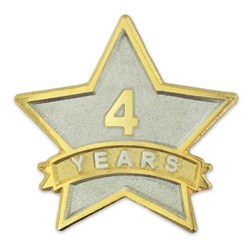 ...for purely non-profit organizations like this, every penny, and every pin, count.
(PRWEB) February 19, 2014
PinMart is honored to have been chosen by local Illinois food bank, St. Bridget's Food Cupboard, to supply them with recognition pins to thank their volunteers for work done to keep the food bank running for its fourth consecutive year. And in a way to give back to the community, PinMart is donating pins to the food bank, with plans to share service and recognition pins with more local and national charities in the near future.
The St. Bridget's Food Cupboard started in 2010 to serve the Rockford Illinois area and families in need. Since then they have depended on the community to make donations to the pantry, as well as through the philanthropy of one individual who donates one million dollars every year to area food pantries, including St. Bridget's. But for purely non-profit organizations like this, every penny, and every pin, count.
Teresa Marotta, organizer for the pantry, pointed out that much of the money to thank the volunteers through recognition pins was coming out of her own pocket. "[These pins] will give me plenty extra for future volunteers... [who will be] servicing over 700 families every month." She hopes that not only will this keep the current volunteer staff motivated to keep helping, but will entice new volunteers to join the team and take on the task of erasing poverty in Illinois.
About PinMart: PinMart, Inc. is a privately held company located in Mount Prospect Illinois, a suburb of Chicago, specializing in the design and manufacture of stock and custom service pins, awareness ribbons, and employee recognitionPinMart sells stock products via its online store and offers custom design and manufacturing. PinMart has taken advantage of its well positioned internet presence and now boasts a client list that includes over 300 of the Fortune 500 companies.