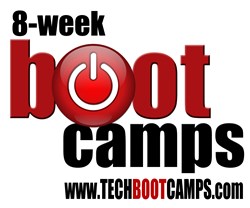 We create Drupal Web Developers in our 8-week boot camps, and offer them an opportunity to get their full tuition of $5900 reimbursed.
Boston, MA (PRWEB) February 18, 2014
TechBootCamps founder, Joe DiDonato, announced that their new 8-week web developer boot camps will offer the option for full tuition reimbursement when graduates take employment from one of TechBootCamps' employer-partners. Although no employment obligation exists under this arrangement, Mr. DiDonato said that this will help both employers and potential employees.
TechBootCamps reports that employers are often paying as much as 25-30% placement fees to hire candidates that possess Drupal web development expertise. According to its founder, this program will significantly reduce those costs, while utilizing a large part of the referral fee to offset most or all of a student's tuition costs.
This tuition-reimbursement program adds to a very broad offering of scholarships to individuals underrepresented in the software development field. Other scholarships include all military veterans and females, in addition to the other classes of individuals shown on the company website.
Mr. DiDonato stated that there are more than 11 million Americans looking for work, but 45% of human resource managers say they can't find qualified candidates for their open positions. In the high-tech arena, there are an estimated 1 million jobs that are going unfilled for that very reason. This program will be a big step in the right direction, according to senior members of TechBootCamps' Advisory Board.
This program also comes at a crucial decision point for many students. With $1.1 trillion in student debt already, there seems to be further pressure on colleges and universities to raise tuition further. In the public university sector, tuition is up 163%; and in the private university sector, tuition is up 100%, averaging $121,000 for a 4-year degree. On the other end of that equation, household income hasn't kept pace with that growth, and is only up 8% since 1985.
Further complicating the problem according to Gallop and Milken Institute polls, is that 53% of college graduates are unemployed after graduation. This statistic adds further pressure to a student debt that is starting to look similar in size to a mortgage for a median home in the United States.
"We think that software development and other IT careers represent unique skill areas where knowledge actually evolves too quickly for it to be effectively taught in a 2 or 4-year program," remarked Joe DiDonato. "With software and hardware changing ever 12 to 18 months, we understand the problem for colleges trying to teach the skills that business is demanding," he went on to say. A Big Data study recently performed by CareerBuilder, the Wharton School of the University of Pennsylvania, and New York University provided data that supported this notion of quickly evolving skills, and went a step further by saying that the data showed that a college degree in IT added little return when a company hires in this career area.
Mr. DiDonato went on to say that average Drupal Web Developer positions across the nation are averaging $77,000 per year, while cities like Boston, NYC, San Francisco, DC and many others are showing average salaries in the $93,000 to $101,000 range according to Indeed.com. TechBootCamps expects its graduates to be able to obtain an entry-level position in the range of $50,000 to $70,000 depending largely on where the job position is located.
For more information about the program, scholarships, or tuition reimbursement programs, the company has provided a video on its home page at http://www.TechBootCamps.com that describes them in more detail.