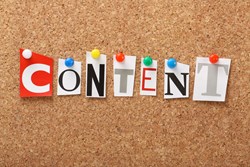 GetUSales industry-specific Infusionsoft content packages make it easy to dive into the world of email marketing.
(PRWEB) February 18, 2014
Seeing busy Infusionsoft subscribers who need content but don't know where to start (or simply do not have time to create it themselves), GetUSales has created a line of pre-built automated marketing campaigns for Infusionsoft. These campaigns are ready-made and designed to be implemented in only a few easy steps.
Why Infusionsoft content from GetUSales works
GetUSales' Infusionsoft content is designed to educate and inform customers based on their needs and preferences. GetUSales' team of professional writers and marketers create captivating content that is more than just sales emails. They create INFORMATIVE emails that customers will actually look forward to reading. This is how GetUSales makes sure the emails get read, not moved to the trash folder.
Each email includes the business' contact information and a call to action, so customers know exactly how to contact the business or purchase a product. Each time they get an email, they'll associate the business with the valuable content they're reading. This builds the trust and name recognition customers need so that, when it's time to make a purchase, this will be the first business they think of.
Specialized Infusionsoft content for different industries
In addition to creating custom content packages, GetUSales also offers pre-made automated Infusionsoft content packages for five industries:
Real Estate – 9 campaigns: General Listing, Z-Buyer, COI/Past Client, Short Sale, General Buyer, RentBO, FSBO, Expired Listing, and Dave Ramsey.
Chiropractic- 8 Campaigns: New Patient WOW, Newsletter Campaign, 1st Visit WOW, 5-Part Sales Funnel, End-of-Year Deductible, Existing Patients, and Holiday.
CrossFit – 10 Campaigns: WOD Alert Opt-In, New Prospect/Expressed Interest, New Member, Local Outreach, Box Visitor/Interview, Discontinued Membership, Rollover 12-Month, and Special Announcements.
Dentist – 8 Campaigns: 11 Secrets to Raising Cavity-Free Children, 9 Critical Secrets of Dental Implants, End-of-Year Deductible, Refer a Friend, Holiday, The Miracle of Dental Implants, Existing Patient WOW, and Call-In Lead Forms.
Wedding Coordinator – 6 Campaigns: New Lead/Expressed Interest, Appointment Follow-Up, Contract Follow-Up, Wedding Survey and Testimonial Request, Special Announcements/Anniversary, and Refer A Friend.
Ready to Get Started?
Businesses that are ready to send their customers Infusionsoft content that they'll love should call GetUSales today! The Infusionsoft experts at GetUSales can get any business on the road to email marketing success in no time, with trackable results for proven ROI. Visit http://www.getusales.com or call 855-834-4850 today!