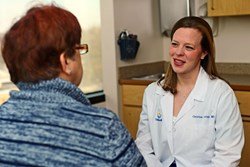 "Our study told us regrets were about as low as you can go and that satisfaction was as high as it could go," said Crisp.
(PRWEB) February 19, 2014
Elderly women who undergo colpocleisis surgery for pelvic organ prolapse and to relieve urinary urgency, bladder plain and bowel incontinence experience high satisfaction and improved body image just six weeks after surgery, a new national research study says.
The seven-hospital, multi-center study was conducted through the Fellows Pelvic Research Network and headed by Cincinnati urogynecologist Dr. Catrina Crisp of Cincinnati Urogynecology Associates, a TriHealth partner at Good Samaritan and Bethesda hospitals.
Crisp and her associates studied 87 women pre-operatively and post-operatively. The average age of women having the surgery was 79 years old. High scores of satisfaction and very low scores of regret were recorded.
Women who had the surgery were able to resume normal daily activities because their prolapse was gone and bowel, bladder and urinary urgency were eliminated, said Crisp.
Colpocleisis is a pelvic prolapse surgery for women which closes the vaginal opening completely, preventing intercourse and recurrent prolapse. Patients look the same on the outside, and they empty their bladder and bowels the same as before surgery. The surgery allows women with nerve and connective tissue damage from multiple childbirths to regain activity and mobility in comfort, without the use of a pessary or lengthy reconstructive surgery.
The average woman in the U.S. suffering from pelvic prolapse, urinary urgency, fecal incontinence, or bladder pain waits seven years before she seeks medical treatment. Crisp and her medical partners are trying to improve that statistic through research and improved education on women's pelvic health issues.
"The women we studied experienced improved pelvic floor symptoms, with a positive effect on bladder, bowel and prolapse symptoms," said Crisp. "We determined that colpocleisis improves body image and pelvic floor symptoms while providing a definitive surgical option that results in low regret and high satisfaction."
This study is important to women for a couple of reasons, said Crisp. It not only shows that women experience dramatic improvements after a surgery that corrects the prolapse, urgency and bowel problems, but it also improves women's body image. "Our study told us regrets were about as low as you can go and that satisfaction was as high as it could go," said Crisp.
Study results were published in the November, 2013 American Journal of Obstetrics and Gynecology(AJOG) Journal, which presents the latest diagnostic procedures, leading-edge research, and expert commentary in maternal-fetal medicine, reproductive endocrinology and infertility, gynecologic oncology, and urogynecology as well as general obstetrics and gynecology.
The U.S. Census Bureau estimates that more than 22 percent of the nation's women will be 65 years or older by 2030, with three percent of the population older than 85 years old. Given these demographics, the demand for pelvic prolapse surgeries could increase by 45 percent.
Colpocleisis has been used as an effective treatment for advanced pelvic organ prolapse since the 1800s and provides a surgical alternative to traditional reconstruction.
The procedure offers a success rate or 90 to 100 percent, with low complication risks. While previous studies have shown quality of life and pelvic floor symptoms improve following colpocleisis, there has been little investigation of its impact on body image, regret, or satisfaction until now.
Crisp is a partner at Cincinnati Urogynecology Associates with Drs. Rachel Pauls and Steven D. Kleeman. The practice has offices in West Chester, Clifton at Good Samaritan Hospital and Montgomery at Bethesda North Hospital.
For more information about Cincinnati Urogynecology Associates, call (513) 463-4300 or visit http://www.CincinnatiUrogynecology.com.
# # #
More about TriHealth:
TriHealth is hospitals, physicians and the community working together to help people live better. We provide clinical, educational, preventive and social programs through Bethesda North, Bethesda Butler, TriHealth Evendale and Good Samaritan hospitals and more than 120 other locations throughout Greater Cincinnati. This includes an ambulatory network, physician practices, research division, employer-based health services, hospice care, and fitness and health facilities. Learn more at trihealth.com, Facebook.com/TriHealth, @TriHealth on Twitter, Pinterest.com/TriHealth and at YouTube.com/TriHealth.