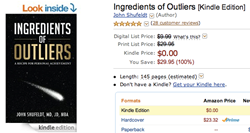 "I can't wait to watch the impact that these fresh Outliers will have." - John Shufeldt
Scottsdale, Arizona (PRWEB) February 18, 2014
Outliers Publishing announced today that their recent free Kindle download promotion was a success. Author John Shufeldt's Non-fiction leadership book Ingredients of Outliers: A Recipe for Personal Achievement was offered on a special limited time promotion from February 5th through the 9th on Amazon.com. This promotion allowed Amazon users, fans, and book enthusiasts to download an ebook copy to their kindle or any device with a free kindle reader application regularly $9.99, at no cost.
The promotion resulted in thousands of book downloads and boosted the Ingredients of Outliers Kindle edition to 125 out of over 2 million books in the Bestseller Ranking on Amazon. The paperback and hardcover received a boost in Bestseller Ranking also, and could be found in the top 125,000 books in the week following the promotion. Outliers Publishing saw an immediate increase in sales in relation to the Kindle, paperback and hardcover editions and expects to see an increase in sales overall in the future.
"It's really inspiring to watch so many people get excited about generating positive change in their lives," said author John Shufeldt. "I can't wait to watch the impact that these fresh Outliers will have."
The promotion will continue for Amazon Prime members and the book will remain free of charge until April 16, 2014.
"We had heard about the success of such promotions for other authors, but still felt hesitant about a giveaway," said Amanda Pacion, Director of Operations at Outliers Publishing. "Ultimately, the promotion proved to expand our readership, which will ultimately prove beneficial for upcoming projects. "
Ingredients of Outliers is the first book of the "Outliers Series", it will be followed by at least 8 other books over the course of 2014. The books are intended for students, college graduates and anyone interested in entering or furthering their career. The goal of the series is to offer books specific to sought after career fields with insider information and recommended channels for pursuing that career from experts in each respective profession. The career fields include but are not limited to: Medicine, Law, Sports, Design / Engineering, The Arts / Entertainment, Entrepreneurism / Business, Service to Country/ Service to Mankind, Writing / Journalism, and Travel / Leisure.
Ingredients of Outliers is currently available for purchase via Amazon and the Official Website http://www.ingredientsofoutliers.com.
About Ingredients of Outliers:
"Ingredients of Outliers," written by John Shufeldt ,was released July 2013. This book is a life-guide filled with advice and stories from Shufeldt's own personal endeavors, as well as those of historical figures and influential acquaintances. Throughout the book, John describes the characteristic that make someone an "exceptional" individual who stands apart from the crowd, an "outlier."
Each one of the 16-chapters in the 169-page non-fiction book focuses on a different attribute that an "outlier" demonstrates. The chapter topics include humility, failure, persistence, preparation, communication, imperturbability, tolerating risk, kindness, learning, optimism, perspective, indefatigability, efficiency, integrity, intuition and being one of a kind.
"Ingredients of Outliers" is a compilation of thoughts, tips and techniques composed as a guide to discovering the ingredients of the "secret sauce" that will turn an individual from average to extraordinary. It will inspire readers to join the ranks of the outliers.