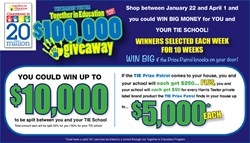 Matthews, N.C. (PRWEB) February 17, 2014
Last Saturday, Feb. 15, 2014, as part of Harris Teeter's Together in Education (TIE) $100,000 Giveaway, Week 3 winners – Kelly Turner and Andrew Cudahy, both of Matthews, N.C. earned $2,200 and $2,800, respectively, for themselves and for the TIE school program to which their VIC cards are linked. Turner earned $2,200 and another $2,200 for Covenant Day School, while Cudahy earned $2,800 for himself as well as $2,800 for Butler High School.
During the $100,000 Giveaway, a winner ("Weekly Contestant") is randomly drawn every Wednesday between Jan. 22, 2014 and April 2, 2014. Harris Teeter's TIE Prize Patrol surprises the Weekly Contestant at home the following Saturday. The Prize Patrol presents the Weekly Contestant with an initial $250 and then searches the home for Harris Teeter Brand products. For every Harris Teeter Brand product found, the Weekly Contestant and the TIE school to which the contestant's VIC card is linked each earn $50. The total maximum donation each weekend is $10,000. If the $10,000 is not entirely spent at the first Weekly Contestant's home, the Prize Patrol will move on to other Weekly Contestants' homes until the full $10,000 is awarded for the day.
As part of the TIE $100,000 Giveaway, Harris Teeter will also select and advertise a Bonus Item each week. If the Bonus Item is found in the Weekly Contestant's home, the Weekly Contestant and the TIE school will each earn $250.
The Week 3 Bonus Item was Harris Teeter cereal and was not found in either Turner or Cudahy's homes; the Week 4 Bonus Item is Harris Teeter pasta.
Week 1 Contestant: David Brown
TIE School: Carrboro High School PTSA
HT Brands: 91 (Including the weekly Bonus Item)
Total Prize: $10,000
Week 2 Contestant: The Parada Family
TIE School: South Mecklenburg High School Lacrosse
HT Brands: 95
Total Prize: $10,000
Week 3 Contestant 1: Kelly Turner
TIE School: Covenant Day School
HT Brands: 39
Total Prize: $4,400
Week 3 Contestant 2: Andrew Cudahy
TIE School: Butler High School
HT Brands: 51
Total Prize: $5,600
Seven weeks remain in the contest; be sure your VIC card is linked to a TIE school for a chance to participate in the $100,000 Giveaway.
About Harris Teeter
Harris Teeter, with headquarters in Matthews, N.C., is a wholly-owned subsidiary of The Kroger Co. (NYSE: KR). Harris Teeter reported 2013 sales of $4.71 billion. The regional grocery chain employs approximately 26,000 associates and operates stores in North Carolina, South Carolina, Virginia, Georgia, Tennessee, Maryland, Delaware, Florida and the District of Columbia.