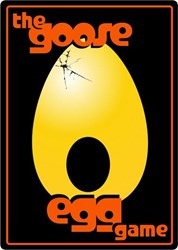 The Goose Egg Game has the simplicity and fun of UNO.
Cincinnati, Ohio (PRWEB) February 19, 2014
Happy Android Ideas, a creative startup group in Cincinnati, today announced May 1st, 2014 as the release date for their new card game, The Goose Egg Game, claiming fun for ages 6 and up.
"My partner and I sat down one day to play cards," said Dan Grau, co-founder of Happy Android Ideas and co-creator of The Goose Egg Game. "Our deck was missing some cards. So we thought a moment, and decided to simply create an entirely new game."
"The Goose Egg Game has the simplicity and fun of UNO," continued Brandon Compton, who is the other half of the creative duo behind the game. "We knew that simplicity was very important in a card game, but because it's new, we made sure that we put in a shot of freshness too!"
GOOSE EGG players trade cards and discard cards, until someone has five cards that equal zero. Then, like in UNO, you shout out. Only this time you shout, "GOOSE EGG!"
Can't wait until May 1st? No worries. The Goose Egg Game is available for pre-sale on
Kickstarter.com. Just search for The Goose Egg Game.
"We got everyone we knew to play test GOOSE EGG," continued Compton. "People picked up on how to play effectively in a matter of minutes. And that's the sign of a successful card game."
GOOSE EGG will go with you, allowing play on a table or anywhere on the go – 2 to 6 players.
GeekExchange.com, a group specializing in the study of board and card games, says they see a resurgence in tabletop games. The YouTube series "Table Top" is a testimony to this rebirth. But, with more and more competition in new card games, today a game must have the simplicity and appeal that players want.
When asked if they feel their game has any flaws they need to correct, the answer was quite predictable: "GOOSE EGG!!!" they both yelled.
About Happy Android Ideas
Happy Android Ideas is a creative idea startup, with entrepreneurs who have strong backgrounds in sales, marketing and product development. With the success of their first publicly released game, The Goose Egg Game, the team seeks to develop, and bring to market, exciting new games for the tabletop gaming crowd. For more info, visit: http://www.kickstarter.com/projects/969783709/the-goose-egg-game-lets-hatch-some-fun.