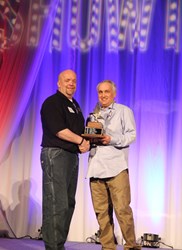 "Chuck is an outstanding example of an RJ Young leader and is a fitting addition to the line of John T. Crunk Leadership Award recipients."
Nashville, TN (PRWEB) February 18, 2014
The RJ Young Company celebrated a record breaking year at their "Showtime: A Night at the Movies" themed annual company meeting held at the Gaylord Opryland Hotel and Convention Center on January 25th. The top honors of the night went to Employee of the Year, Greg Stewart, Branch of the Year, Murfreesboro, and The John T. Crunk Leadership Award winner, Chuck Kennedy.
RJ Young surpassed the $100 million sales mark in 2013 through the hard work and efforts of 450-plus employees throughout their Sales and Service footprint.
The top honor of the night, The John T. Crunk Leadership Award, went to Chuck Kennedy, RJ Young's Controller. Sam Shallenberger, RJ Young's CFO said, "Chuck is an outstanding example of an RJ Young leader and is a fitting addition to the line of John T. Crunk Leadership Award recipients." One of Kennedy's top accomplishments was implementing a new enterprise software system for the company this past year.
Greg Stewart, Operations Administration Manager, was chosen as RJ Young's Employee of the Year. "Greg's willingness to help others, communicate and train effectively through our own unique automated software transition experience makes him deserving of the award," said Chip Crunk also stated.
Another top award, Branch of the Year, went to the Murfreesboro Sales and Service team. "The Murfreesboro branch through Sales and Service, have produced a very powerful group of individuals that are at a high level of production," said Hunter McCarty, COO at RJ Young.
The theme of the night was "Showtime: A Night at the Movies" where the employees dressed up as their favorite movie characters throughout history. The costumes ranged from Scarlett O'Hara to Thor.
About RJ Young
RJ Young is the largest independent office equipment and business technology provider in the Southeast. They offer the latest technology to scan, secure, share, manage and print information efficiently. RJ Young has been in business for over 58 years. They are headquartered in Nashville, Tennessee and have over 450 employees throughout five states and 20 locations. For RJ Young's complete range of products and services, visit http://www.RJYoung.com.
###