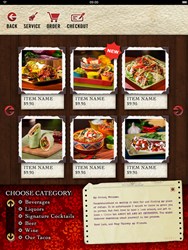 "The table-top ordering system allows travelers to order quickly without waiting for a server, so they can spend their limited time enjoying these well-loved brands in a warm, comfortable setting," said CI President Anthony Joseph.
Atlanta, GA (PRWEB) February 18, 2014
Concessions International (CI) will open two new bar concepts at Hartsfield Jackson Atlanta International Airport (ATL) Feb. 18, both with iPad-enabled ordering for the ultimate in-airport convenience and control. This is the first time that the innovative technology has been used at the ATL airport.
Samuel Adams Atlanta and Dos Equis Explorer Lounge will both open in Concourse B and are the first restaurants at the airport to offer tabletop iPad ordering, allowing travelers to browse the full food and beverage digital menu and order in minutes, from every seat in both locations and check flight status.
"We strive to bring travelers the perfect balance of comfort and convenience," said CI President Anthony Joseph. "The table-top ordering system allows travelers to order quickly without waiting for a server, so they can spend their limited time enjoying these well-loved brands in a warm, comfortable setting."
Thirty (30) iPad tablets with custom designed, secure stands allowing for easy access will be used at both concepts with a full, digital menu that showcases appetizing digital imagery with the convenience of ordering and paying for food and drinks in a fast paced environment. The wait staff is supported by a unique wireless paging system alerting them of ordering activity and requests for additional service. Guests also have the ability to check on weather or flight status in addition to playing games for entertainment. The software is provided by eTouch Menu and the menu design by Menu Masters.
Samuel Adams Atlanta will offer its distinctive hand-crafted beers, along with a wide variety of American fare, served up from nearby restaurants, including Paschal's, Little Azio's, and Café Tazza.
"Through the power of mobile, we are able to offer our guests a wide variety of dining options through one central ordering platform, which also offers photos and more," said Joseph.
The Dos Equis Explorer's Lounge will be the first time the brand has opened in an airport environment. The lounge will feature a cozy decor inspired by the journeys of the Dos Equis' "Most Interesting Man." The expanded menu is also available via iPad ordering and will feature a delicious array of taquitos, fresh salads, wraps, nachos and Dos Equis signature drinks. Early morning travelers can also stop by the restaurant for Mexican-inspired breakfast dishes.
The Dos Equis Explorer's Lounge and Samuel Adams Atlanta will be operated by a joint venture between CI and H&H Hospitality, a certified Disadvantaged Business Enterprise owned by Kevin Holt and Randy Hazelton, founders and former operators of Café Circa, located in Atlanta's Old Fourth Ward.
Concessions International operates numerous national and local QSR, fast casual and casual dining brands in eight airports across the U.S. and U.S. Virgin Islands. Dos Equis Explorer Lounge and Samuel Adams Atlanta join CI's other newest ventures, Lottafrutta and Fresh To Order (f2o), also located in the renovated Concourse B terminal.
About Concessions International, LLC
Atlanta-based Concessions International, LLC, founded in 1978, is a dynamic food and beverage concessionaire with operations in eight airports. The company's portfolio includes franchised, licensed and proprietary concepts, including casual dining, quick service, snack, deli and bar and grill. The company is a franchisee of major national brands including Fresh To Order, Seattle's Best Coffee, and Einstein Bros. Bagels. CI operates Pemberton Café at the World of Coca Cola, and Paschal's Restaurant in the historic Castleberry district of downtown Atlanta. Visit http://www.cintl.com for more information.
About eTouch Menu
eTouchMenu, headquartered in Minneapolis, MN, is a leading software developer and provider of digital tabletop menus. The digital menu tablets and technology are at the forefront of revolutionizing the guest experience and the operational efficiencies of a restaurant. For the guest experience, it's about having the control and convenience to order and pay for their meals. For the restaurant, it's creating a "cashless and paperless" environment that improves operating efficiencies, drives revenue, accelerates table turns, provides multiple languages and produces new revenue streams utilizing advertising and special promotion opportunities.
Media Contact: Ellen Hartman; (678) 399-3335,
Photos: https://www.dropbox.com/sh/begcrisnopnwfxk/iPNUClfo2G