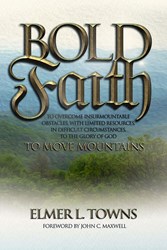 Lynchburg, Va. (PRWEB) February 17, 2014
Liberty University Press recently released "Bold Faith" by best-selling author Dr. Elmer L. Towns. "Bold Faith" encourages readers to step out of their comfort zone and start improving their relationship with God through practical techniques of faith. Dr. Towns outlines the processes of developing trust and confidence in God by using examples of faith from both the Bible and well-known ministry leaders. "Bold Faith" is available for Kindle and Nook.
The book includes a foreword by renowned author and speaker, John C. Maxwell, and focuses on strengthening the reader's relationship with God using examples from Dr. Towns' personal faith journey beginning with his salvation experience in 1950.
Many of Dr. Towns' examples in "Bold Faith" center specifically on Liberty University, the school he co-founded and a place that has been his "faith boot camp for 39 years." The book also shares insights about the university's founder, Dr. Jerry Falwell, and his bold faith in asking God for the impossible.
"I've learned more about faith here (at Liberty) than at any other place," Towns said.
Dr. Towns' book includes examples of how God has worked through the bold faith of well-known churches around the world, such as Christ Fellowship of Palm Beach Gardens, Fla., the Embassy of God of Kiev, Ukraine, and the largest church in the world, Yoido Full Gospel Church of Seoul, Korea. Each church leader has had to "commit to the leap of faith" — a commitment that Dr. Towns' believes is essential for the obedient believer.
Dr. Towns reminds the reader that "growth is not automatic," but exhorts them to begin the journey of faith "where the needy heart starts."
About Liberty University Press
Liberty University Press remains at the forefront of helping Christian authors achieve their personal publishing goals. Visit Liberty University Press online for more news and information.
About Liberty University
Liberty University, founded in 1971, is the largest private, nonprofit university in the nation, the largest university in Virginia, and the largest Christian university in the world. Located near the Blue Ridge Mountains on more than 7,000 acres in Lynchburg, Va., Liberty offers more than 300 residential and 160 online education programs from the associate to the doctoral level. Liberty's mission is to train Champions for Christ with the values, knowledge, and skills essential to impact tomorrow's world.