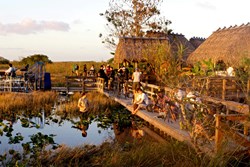 Miami, FL (PRWEB) February 19, 2014
The weeklong transmedia conference, FilmGate Interactive, kicked off February 1st through February 5, 2014, at various South Florida locations, with a host of experiential and interactive events to entertain and showcase the latest ideas in modern storytelling using emerging technologies to engage and unite locals and visitors alike.
"It was only our second year, yet FilmGate Interactive 2014 managed to attract some of the greatest immersive storytellers from Canada and the U.S. Our first Story Hack was very successful and are pleased to be able to facilitate the creation of new stories at the intersection of creativity and new technology. Industry giants like Sony, Canon, and Manfrotto welcomed the opportunity to present regionally and have offered their assistance to help us grow. We look forward to FilmGate 2015," said Diliana Alexander, FilmGate Interactive Executive Director.
The kick-off party performances help set the tone by combining film, dance, music, and tech. Octavio Campos, creator of TRPL Quince, took us into his world, both tragic and triumphant, for the quince he never got, while Jacob Niedzwiecki's Ensmble allowed event goers, with recent generation smart-phones, to play along in a responsive participatory media installation guided by apps and flocking algorithms. The L Loves M experimental multi-media experience and installation used found audio and video surveillance interwoven with speculative and improvised performance recordings. For those who wanted to "monkey around", Amy Von Harrington and her interactive video, Three Minute Space-Time Monkey Business Continuum, provided the right amount of relief that only a customized karaoke experience could provide, monkey included. Bonus musical performances included Maylee Todd, Panic Bomber, Jean Jacket, and DJ set by The Hongs and Sans with accompanying visuals provided by Jason Boogie.
Featured weeklong interactive screenings delved into a multitude of subjects. Mad King Thomas' The Home Project flirted with topics like aging, mythology, the National Park System and much more. THE SKYPE SHOW or See You in August experience created by Jody Christopherson spoke to the way technology can enable us to transcend geographical boundaries, uniting artists with each other and their audience. The highly anticipated Hierarchy of The Lost Children, by story architect Mark Harris, gave FilmGate participants the immersive experience they were looking for. Cult recruitment techniques and rituals recreated, the brave, curious, and easily lead played along for experience to challenge all beliefs through a series of multisensory tricks and tools.
"A nocturnal rendezvous," The Journal of Insomnia, by The National Film Board of Canada, was the perfect pairing for those with a disorder that affects one in three people. The interactive experience, created with the help of thousands though webcam submissions, played out with mock confessionals, an interactive feature, an experience walkthrough and live music. Local entry and hybrid movie American Zoe a.k.a. 44 Blocks Away, by Susan Karie Braun, screened providing a glimpse into the lives of a local teenage gang in Miami's Little Haiti. The audience was invited to ride along through social media and live music by Kazoots, to be later recorded for the project's music video. Other spotlight screenings included The Aatsinki Season, The Story of Arctic Cowboys, a Vincent Moon retrospective, The Other Russia, as well as Post Modern Musicals, Vagina Puppetry and Fictional Corporations with Lucas Leyva and Jillian Mayer.
FilmGate workshops offered educational opportunities for those looking to further develop their craft. Erica Hargreave's Creative Collaboration Workshop encouraged imagination and the use of cross-media platforms to build "Storyworlds" that when done right ignite the end-user to create their own. The final group created #CHANGEgate to inspire and track inspirational storylines where "change" of some kind was important to the plot. Adobe Ambassador Nicole Martinez led digital content creators and editors through advanced techniques in Adobe Creative Suite, while Dr. Joey Bargsten helped workshop attendees examine Microsoft's Kinect, a motion and sound sensor for Xbox 360, and learn how it can be used to develop interactive performances.
Led by Executive Director Adnaan Wasey, POV (a cinema term for "point of view") Digital, television's longest-running showcase for independent non-fiction films, premiering 14-16 of the best, boldest and most innovative programs every year on PBS, dug into its 27-year archive to showcase never-before-seen online experiments, early crowdsourcing projects, and other pioneering multimedia from its digital past, exclusively for FilmGate audiences.
The weeklong event also provided a filmmakers and creatives with numerous opportunities to participate and win. Carlos de Verona, director of Paradice, and TAKE 5 contest winner, was selected by a panel of judges to receive $1,000. Hosted by Billy Corben, Director of Cocaine Cowboys and The U, alongside Rakontur Films, FilmGate Interactive, and CreativGlu, TAKE 5 encouraged the local community to make Miami better by sharing their solution to fix or preserve what makes the city great by creating a short film using only a phone or tablet.
At the FilmGate Workshop and Interactive Story Hack with POV Digital, teams were challenged to "reinvent the documentary for the web". Liss LaFleur and her project One Way Home was selected as winner, receiving $1,000 cash prize. For over 20 years, a gay Air Force veteran in Texas has lead a community of Charity Queens and cowboys to purchase one-way tickets, sending people with AIDS home for what might be their last trip. This small community still thrives as the nation's only travel and funerary assistance resource for those living with and dying from AIDS and their families. In collaboration with Home for the Holidays, TX, One Way Home is an interactive documentary and community-building project that explores HIV/AIDS through the eyes and voices of those most affected by this disease. Merging cinematic techniques with web-based storytelling, this project is intended to bridge the generational gap that exists between the original generation affected by HIV/AIDS and a younger generation who is highest at risk.
Last but not least, the highly coveted Pink Kraken Award for The Best of NOLA 2013, the I'm Not Gonna Move to LA monthly short film competition, was awarded to Denise Kelone, director of In Character. Denise initially won by audience votes back in August of 2013 and now took the grand prize.
The Interactive Technology Playground provided film and tech lovers with a chance to experience first-hand the latest in digital cinematography equipment. Free and open to the public, Midtown Video curated the NAB-Style exhibition featuring the biggest names in cinema, including industry giants like Sony, Canon, Manfrotto, ARRI, Schneider Optics, Kessler, Manfrotto and more. Complete with a studio set and live actors, guests operated and experimented with cameras, lenses, accessories, dollies, and cranes, as well as viewed the feed from dream cameras on the finest video monitors available.
Completing its second successful year, the FilmGate Interactive weekend rounded off with the highly anticipated Philip Bloom Master Class: Making the Eco Doc. Taking a select group of filmmakers on an educational and instructional excursion, the three-day Master Class started at the Miami Beach Botanical Gardens and ended with airboat rides through the Everglades, the heritage site and home of 36 different threatened species, with activist group Love the Everglades, following an Eco Panel Discussion hosted by Houston Cypress.
Benefiting the Indie Film Club Miami, FilmGate Interactive was made possible with the support of the Knight Foundation, Miami Beach Visitor and Convention Authority, Miami-Dade County Cultural Affairs Department, Graeser Associates International, Inc., Moving Pictures, The Betsy Hotel, Tropicult, jtown.tv, O Cinema, The Carlton South Beach, Miami Beach Cinematheque, Rex Goliath, Bardot, Kill Your Idol, Midtown Video and industry giants Sony, Canon, Manfrotto, ARRI, Schneider Optics, Kessler, and Manfrotto. For more information, please visit http://www.Film-Gate.org.
ABOUT FILMGATE INTERACTIVE:
Bringing together cross­media's leading international creators, thinkers and practitioners from across the fields of film, TV, interactive, online, mobile, gaming, publishing and live events, FilmGate Interactive will showcase the latest ideas and innovations of modern storytelling, audience engagement and business practices. For more visit, http://www.Film-Gate.org
ABOUT INDIE FILM CLUB MIAMI:
Created for the next generation of filmmakers and immersive visual storytellers, Indie Film Club is a not for profit organization that binds and strengthens the community by a variety of programs ‐ monthly screenings, workshops, percolators, meet-ups, as well as production support. Through education, assistance, mentorships, partnerships, and our interactive film and new technology conference FilmGate Interactive, the Indie Film Club redefines Miami's booming creative landscape. For more, visit http://www.indiefilmclubmiami.com.