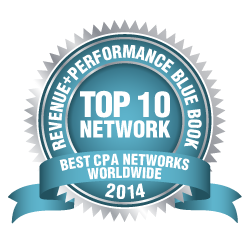 We are dedicated to perfecting content monetization technology that generates revenue for our publishers and drives quality, cost-effective leads globally for our advertisers. -Fehzan Ali, CEO of Adscend Media
Austin, TX (PRWEB) February 18, 2014
Adscend Media, a performance-based advertising network that specializes in content monetization technology, announced today that the company has received a top ten ranking in the 2014 Blue Book Survey. Published annually by Revenue Performance magazine, the Blue Book survey profiles the highest ranking performance marketing networks in the world, as determined by survey votes and by members of the Blue-Ribbon Panel. With the 8th highest network ranking in the category of Top CPA Networks, Adscend Media has received a Blue Book survey top ten ranking in that category for three consecutive years.
According to Adscend Media CEO, Fehzan Ali, Adscend's total team commitment to the success of the network is a major reason for their continued high Blue Book survey rankings. "Since our inception, our entire team has been committed to exceeding the needs of our network partners. We are dedicated to perfecting content monetization technology that generates revenue for our publishers and drives quality, cost-effective leads globally for our advertisers," stated Ali.
AdLock®, Adscend's proprietary content locking technology, allows content creators to provide their consumers with a no-cost alternative to paying for their premium content. By preventing user access to content until a user completes a specific action, such as completing an advertiser-sponsored offer, content locking technology helps content creators generate revenue from their existing content. Since Adscend's launch in 2009, publishers in the Adscend network using AdLock products have seen average eCPMs in the US of $30-$80+, versus $4-5 when using more traditional content monetization methods like AdSense.
Adscend offers three AdLock product choices to enable content monetization through content locking. Adscend's AdLock® Widget is a stand-alone JavaScript application that can be easily embedded into a website to allow content creators to monetize web content. The AdLock® Link is customizable hyperlink that can be used to monetize premium files, links, passwords, and other digital content. Utilizing the AdLock Link to monetize content also does not require the use of a website. The AdLock® API is a highly customizable content locking technology that can be used to monetize web content, files, and virtual items (e.g. in-app items, in-game currency, memberships, account upgrades).
"Whether you have a mobile app or game, online tool, video, eBook, album, guide, game code, or any other type of premium content, AdLock technology can help you monetize your content in a format that seamlessly integrates with the unique nature of your content," stated Ali.
Adscend's performance-based advertising models help Adscend's advertising partners generate web application installs, mobile app and game downloads, registrations, subscriptions, and other quality leads in over 180 countries on a pay for performance basis. According to Ali, mobile advertisers have been a recent growing segment of the company's advertiser base.
"Our advertising team has brought in a large amount of mobile advertising partners within the last 12 months. Our mobile partners love how quickly our publishers can generate quality downloads for their apps and games and our publishers love our increased mobile offer inventory," stated Ali.
Over 5,000 respondents participated in the 2014 Blue Book Survey, with over 500 performance marketing networks receiving consideration. Ali is grateful for Adscend's continued recognition in the highly-competitive survey. "To continue to be recognized by members of the performance marketing community is the type of honor that lets us know that we are still on the right track," said Ali.
For more information on Adscend Media, please visit: http://adscendmedia.com.
About Adscend Media
Founded in 2009, Adscend Media is a leader in the online advertising space, focused on developing innovative, turn-key digital content monetization solutions. AdLock®, Adscend Media's proprietary content locking technology, allows publishers to maximize revenues from their premium content, and realize earnings far beyond that of traditional CPM advertising. Adscend's vast global reach and high engagement solutions also allow advertisers to acquire new customers, perform market research, and ultimately grow sales. Each month, Adscend's offer platform features offers targeted to users in over 180 countries and delivers over 500,000 actionable leads per month to their advertising partners. Currently, Adscend has over 1,500 offerwall, points, mobile, and other incentive-based lead generation campaigns.