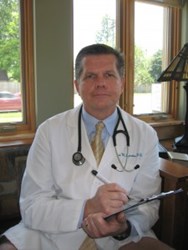 Naperville, IL (PRWEB) February 17, 2014
Dr. Kaz Zymantas alerts patients in Naperville, IL that February is Gum Disease Awareness Month and that they have access to the Laser Assisted New Attachment Protocol (LANAP®), a laser gum surgery that provides exceptional results with minimal impact or discomfort in the war against gum disease. Many gum disease symptoms such as red, swollen or bleeding gums can be effectively treated with LANAP® in a fraction of the time as compared to traditional treatment methods.
Persistent gum disease is linked to several serious medical conditions including heart disease, diabetes, stroke and more. Additionally, when gum disease is not properly treated, patients face an increased risk of tooth or bone loss. Both of these have multiple long-term consequences if not appropriately addressed. During Gum Disease Awareness Month, Dr. Zymantas will be working to increase Naperville, IL residents' awareness of gum disease symptoms and when to seek professional care such as laser gum surgery.
LANAP® is the first laser gum surgery method to be cleared by the Food and Drug Administration for gum disease treatment and Naperville, IL dentist Dr. Zymantas is among the one percent of dental professionals to offer this revolutionary treatment. The LANAP® laser is able to hone in on diseased gum tissue and evaporate it while leaving neighboring healthy tissue intact. Standard surgeries that involve a scalpel to cut out infected areas inevitably also cut out some unaffected tissue, meaning that more gum area is lost than is needed. When there is not enough gum tissue present, teeth may not be able to be properly supported, putting patients at risk for tooth loss. Understanding this relationship is important to better understand the need to identify gum disease symptoms early and take prompt action.
Anyone interested in learning more about gum disease prevention and treatment is encouraged to visit Dr. Zymantas' website at http://www.lanapnaperville.com or to schedule a consultation with Dr. Zymantas. He and his staff welcome all new patients and are excited to help more people obtain the healthy gums that they deserve.
About The Doctor
Dr. Kaz Zymantas is a general dentist offering personalized dental care for patients in Naperville, IL for over 30 years. Dr. Zymantas received his Doctor of Dental Surgery from the University of Illinois and has earned a fellowship in the American Academy of General Dentistry, an honor belonging to only three percent of dentists in the world. Dr. Zymantas is part of one percent of dental professionals providing the LANAP® FDA cleared laser procedure for gum disease and periodontal treatment. To learn more about Dr. Zymantas and his dental services visit his website at http://www.lanapnaperville.com.