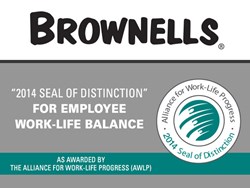 This shows Brownells is fulfilling our obligation to be an employer of choice.
Montezuma, Iowa (PRWEB) February 19, 2014
Brownells – voted five times as Poweshiek County, Iowa's best employer – is proud to announce it has earned the 2014 Work-Life Seal of Distinction from the Alliance for Work-Life Progress.
Brownells' Human Resources department has worked toward the Seal of Distinction for two years, taking a series of classes and exams, and implementing various programs at Brownells.
"The process started a couple of years ago, and goes along with Pete Brownell's vision for all our employees to succeed personally," said Brownells President Matt Buckingham. "Receiving this seal demonstrates that Brownells uses best practices to help our people achieve personal success, and success for the business. It's a really nice achievement and shows the hard work and dedication of our Human Resources employees, too."
To earn the seal, Brownells had to offer programs for its employees in all the areas required by the AWLP, including caring for dependents, health and wellness, paid and unpaid time off, financial support, community involvement, culture change and workplace flexibility.
"The most recent programs we've added are the flex program, offering flexible working hours, and the road to retirement program," said Buckingham.
Brownells is among only 66 organizations to earn the Work-Life Seal of Distinction for 2014. Others receiving the award include Johnson & Johnson, Texas Instruments, Northrup Grumman Corp., Delta Air Lines, Yale University and Principal Financial Group.
"This shows Brownells is fulfilling our obligation to be an employer of choice," said Buckingham.
About AWLP
Founded in 1996, the AWLP is the professional association for practitioners, researchers and thought leaders dedicated to advancing work-life portfolios as a core business and the Total Rewards strategy. A premium brand with WorldatWork.org since 2004, the Alliance defines and acknowledges best practices and innovation in work-life leadership.
About Brownells
Founded in 1939, Brownells is an Iowa-based, family-owned company that supplies more than 82,000 firearms parts, accessories, reloading components, gunsmithing tools, ammunition and survival gear to armorers, gunsmiths, the military, and shooters worldwide. In addition to their industry-leading 100% lifetime guarantee – forever – on EVERY product sold, their staff of veteran Gun Techs is available to assist customers with technical help to fix any gun-related problem – free of charge. There are no minimum order sizes or return/exchange fees. To place an order, or for more information, call 800-741-0015 or visit http://www.brownells.com.