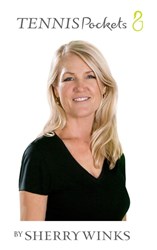 TennisPockets allows tennis players to focus on their game and not their tennis balls
Hilton Head Island, South Carolina (PRWEB) February 19, 2014
SherryWinks has announced they will be introducing the first ever patented tennis tank top with pockets for tennis balls at the Professional Tennis Registry Symposium Trade Show in Hilton Head Island, South Carolina on February 21. Sherry Goff, Founder and CEO of SherryWinks will be on hand to personally make this world introduction.
SherryWinks is a pocket company located in Williamstown, Massachusetts. The SherryWinks utility patent for an athletic tennis tank top with built in pockets for tennis balls has been in the planning stages since the patent was filed in 2011. "We are very excited to share this new and innovative product with the tennis community and increase the enjoyment of the game of tennis," Sherry Goff said. Sherry (an accomplished golfer) noticed her tennis friends did not enjoy storing balls in their shorts also called panties.
Her friends knew that Sherry had a pocket company and asked her to make them a tennis tank top that would accommodate tennis ball storage. TennisPockets was developed and has the capacity to store up to six tennis balls at once, two in the front and 4 in the back. "TennisPockets allows tennis players to focus on their game and not their tennis balls," claims the Founder. "Women tennis players want to enjoy their game and look great in the process which is why I developed a sporty, racer back tank with a built in bra that is made of milk silk, a special high end polyester/spandex blend that is superior in wicking away moisture and looks and feels great."
Sherry received her BA from Rollins College where she played four years of varsity golf, and received her MBA from Babson College, the Franklin W. Olin Graduate School of Business. Sherry is the mother of three involved and motivated young adults. She came upon her inventions while trying to keep her phone close and coordinate her busy family.
Sherry said, "It feels wonderful to be able to offer a tennis product that will make players' lives easier and more enjoyable and I look forward to distributing TennisPockets to tennis pro shops and sporting goods stores throughout the country."