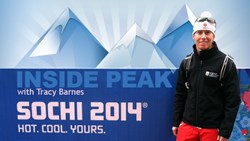 Orange Beach, AL (PRWEB) February 18, 2014
Columbia Southern University (CSU) student and Olympic biathlon athlete Tracy Barnes has teamed with CSU Vice President Chantell Cooley to present daily interviews from Sochi, Russia during the Olympics.
Barnes, an Olympian who gave up her spot on the U.S. biathlon team to her twin sister Lanny, traveled to the games for a week. She will offer daily reports, photos and video from Sochi and chat with Cooley via Skype to update fans and classmates. To view the daily blog/reports called "Inside Peak with Tracy Barnes," go to http://communicator.columbiasouthern.edu/2014/02/tracy-lands-sochi/.
CSU offers online associate, bachelor's, master's and doctoral degree programs in various fields including criminal justice, fire administration, occupational safety and health, and business administration. If you would like learn more about CSU, please visit http://www.ColumbiaSouthern.edu.