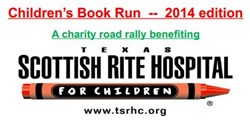 (PRWEB) February 18, 2014
PLANO, Texas, February 18, 2014: Subaru of Plano in Plano, Texas is joining the Texas Region Sports Car Club of America (SCCA) to host the upcoming Children's Book Run Charity Road Rally benefiting the Texas Scottish Rite Hospital for Children (TSRHC). In support of TSRHC, each person in the car is asked to bring a new children's book as a donation to the hospital. Rally check-in will begin at 8:30 a.m. on Saturday, February 22, 2014 at Subaru of Plano, located at 4480 W Plano Pkwy in Plano, Texas. There will be a safety briefing at 9:30 a.m. and the first car will take off at 9:45 a.m. The rally will be based on the famous board game "Clue" and will have participants navigating scenic back roads in attempt to solve the mystery. For more information or to pre-register, please visit the event website at http://www.texasscca.org/rallytime.
According to the Texas SCCA website, Texas Region rallies are non-speed events and are usually run on fun-to-drive roads. Teams are scored on how closely they matched the answers to the questions asked during the event. Awards are given to a variety of different classes from First-Timers and Novices all the way to Master Classes. The team at Subaru of Plano is excited to support the Texas Scottish Rite Hospital for Children by hosting the Children's Book Run Rally. Events like the upcoming rally allow Subaru of Plano to show their commitment to being an active community member and supporting causes that positively influence Plano and the neighboring areas.
Texas Scottish Rite Hospital for Children is a world leader in the treatment of pediatric orthopedic conditions and has treated more than 225,000 children since it was first established in 1921. The hospital welcomes volunteers to join them in making TSRHC a special place for patients and their families. For more information on how you can help TSRHC, please visit the hospital's website.
Subaru of Plano has been the number one Subaru sales leader in North Texas for four years running and offers many automotive products and services to the Plano community and surrounding areas. The dealership carries a full line of Subaru vehicles and offers both new and used automobiles. For more information about Subaru of Plano, you can visit their website or contact them by phone at 972-801-9900.