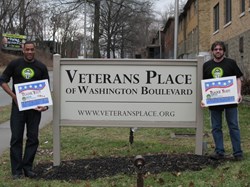 Houston, TX (PRWEB) February 18, 2014
ServerMonkey, a leading provider of new and refurbished servers and networking and IT equipment, has joined in the effort to combat veteran homelessness with its donation of Dell PowerEdge 2950 servers to Veterans Place, a nonprofit organization dedicated to ending homelessness among veterans in the Pittsburgh area.
The servers, which replaced an old Dell PowerEdge 1950, will be used to house the Veterans Place Network, which will provide connectivity throughout the complex and run the entire network infrastructure safely and reliably for years to come.
"The donated 2950's from ServerMonkey came in right on time. I cannot stress enough how profoundly this will help Veterans Place mission for years and years to come. Deepest thanks from all the vets here to the entire team," said Thom MacIntyre, Veterans Place Systems Administrator.
Founded in 1996, and working in partnership with the VA Pittsburgh Healthcare System, the goal of Veterans Place is to provide a safe haven for Veterans to transition from homeless to home and become engaged, valuable citizens who contribute to their communities.
---------
About ServerMonkey - Located in Houston, TX, ServerMonkey (http://www.servermonkey.com) buys and sells new and refurbished servers and networking equipment. With a blend of low prices, high quality, and exceptional service, ServerMonkey offers a unique opportunity for corporate IT groups to economize without compromising.
ServerMonkey also partners with large enterprise to sustainably handle decommissioned IT equipment. Reusing or recycling equipment is the environmentally conscious choice, and should be an integral part of any company's green initiative. An e-Stewards Enterprise and an 'A+' rated Better Business Bureau accredited company, ServerMonkey provides end to end solutions for asset disposition.