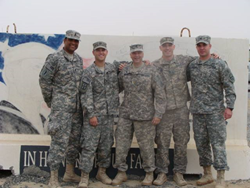 Cleveland, OH (PRWEB) February 25, 2014
Shortly after the launch of Laugh Staff, the company that writes funny best man speeches, co-founder and C.E.O, Cameron Amigo, was deployed overseas in Kuwait with the Ohio Army National Guard.
While Amigo has been providing a service to his country, his company has been providing a different service to best men and maids of honor. Running a start-up has meant that Amigo wakes up early and stays up late, keeping his business afloat with the help of email, phone and Skype.
"I've been working with Cameron and Laugh Staff pretty much since the beginning, but I have never actually met Cameron," said Laugh Staff consultant, Kali Fencl. "It's the craziest thing! Cameron and I have primarily had an email and phone relationship, but it's actually been working pretty well. We've never missed a deadline and we have a lot of satisfied customers. I can't wait to meet him for real though!"
Once Amigo returns home, he and co-founder Josh Womack will be performing together along with several other Laugh Staff consultants at Willoughby Brew Co. on March 11. It will be the first time Laugh Staff consultants perform stand-up together in the same room.
Amigo had this to say "It's been tough, but I've had so many wonderful people help me while I've been gone. Our team at Laugh Staff is small, but strong. I am really appreciative to everyone, but especially Josh Womack, Kali, Fencl, and Celina Colombo."
For more information about Laugh Staff, Inc. visit http://www.laughstaff.com or email camigo(at)laughstaff(dot)com.
About Laugh Staff, Inc.:
Laugh Staff, Inc. was founded in 2012 by a team of comedians and writers in Cleveland, Ohio. Laugh Staff helps their clients with best man speeches as well as providing best man speech examples on their blog. They assist best men and maids of honor in speech-editing, speech writing, and provide training on speech delivery. Recognizing the importance of the big day, Laugh Staff's professional comedians work with best men and maids of honor to ensure they make a lasting impression.