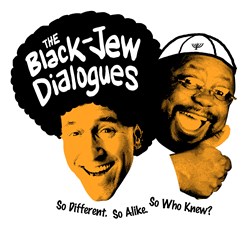 Get to the heart of what divides people. - Washington Post
Omaha, Nebraska (PRWEB) February 18, 2014
The Black-Jew Dialogues combines fast-paced sketches, improvisations, multi-media, puppets and a game show to create a show that has gained praise across the U.S., Canada, and the U.K. at universities, high schools, synagogues, and theaters. Emmy-award winner Ron Jones and veteran performer Simon Pringle-Wallace take their audience on a hysterical journey through the time they spent together building a presentation for an inter-cultural awareness class.
Recent winner of the Association for the Promotion of Campus Activities 2013 – 14 "Best Cultural Speaker" Award, and nominee for "Best Diversity Program in America 2014" by Campus Activities Magazine, the show is in the midst off its national winter tour which will take the duo through South Dakota, Minnesota, Wisconsin, Missouri and Kansas over the next two weeks.
"We use comedy to lower the pressure on what is often a very tough conversation for people to have about all our differences," says Jones about the popular program. Through their dialogue the audience gains insight to the true nature of prejudice and how our inability to face our own biases separate us in ways that we may not even think about. The black and Jewish communities in America share a history of pain, oppression, pride, and a deep commitment to civil rights and justice. The show is, in part an effort honor that.
It also act as a template for how bigotry and bias play themselves out for other marginalized groups today in America.
The show is followed up by a performer led conversation about its content and how those ideas and behaviors play themselves in peoples everyday lives. "The discussions are often difficult and amazing all at the same time," says Jones. "We give people permission to say the things that most folks think, but are afraid to say. Then we deal with it."
"We see ourselves as a cross-generational call to social conscience and activism," says Pringle-Wallace "Given we right in the midst of Black History Month, there is a lot of focus on the legacy of the civil rights movement. Dr. King's vision was not just for Blacks. This show is our attempt to bring that message to a modern context for us and our children."
The workshop fee will be $20 and the ticket price for the performance is $5. Fees can be paid on line at http://thekaneko.org/ or purchased at the event. KANEKO is located at 1111 Jones St. Omaha, Nebraska.
For more information on the performers or the program you can visit http://www.dialoguesondiversity.com Jones and Pringle-Wallace are available for all media interviews and can be reached at through this office.