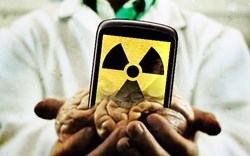 Dr. Henry Lai has reported DNA single and double strand breaks at levels below the current FCC exposure standard.
New York, NY (PRWEB) February 18, 2014
RF Safe, a leading innovator in cell phone radiation safety technologies is helping to make sense of anecdotal evidence that cell phone radiation does cause cancer in a new registry for people to come forward that have been affected by RF radiation exposure.
The question remains, can microwaves disrupt the covalent bonds of DNA? The fundamentals of thermodynamics and physics indicate this is impossible. Numerous industry funded studies say that there is no evidence to support the existence of cancer from cell phones or the 'Microwave Effect', and yet, some studies have demonstrated that microwaves are capable of breaking the covalent bonds of DNA. The exact nature of this phenomenon is not well understood, and no academically accepted theory currently exists to explain it.
John Coates, Founder of RF Safe says, "Just because it can't be explained how microwave radiation from cell phones causes cancer – you can't deny the anecdotal evidence that it does".
RF Safe has created a registry of illness and deaths believed to have resulted from cell phone radiation exposure. The purpose of the registry is to bring the anecdotal evidence out in the open where medical researchers and public safety regulatory agencies can have access to information on those who suffer from sensitivity to electromagnetic radiation.
The Health Effects Registry can be accessed here http://www.rfsafe.com/registry-of-illnessdeaths-caused-from-cell-phone-radiation/
Coates said "As soon as the registry opened people started coming forward with claims that their lives have been negatively affected from exposure to electromagnetic radiation. In today's day and age you can't hide the truth no matter how big of an industry wants to subvert the facts. We honestly don't know who will and who won't be affected by exposure to low levels of microwave radiation. It has to do with genetics like everything else, but we do know that people are coming forward who believe that they have been harmed from the exposure"
According to RF Safe studies are showing more significant bio-effects at lower and lower power densities. Dr. Henry Lai has reported DNA single and double strand breaks at levels below the current FCC exposure standard. Genetic Effects of Non-Ionizing Electromagnetic Fields Oct 2012 http://www.bioinitiative.org/report/wp-content/uploads/pdfs/sec06_2012_genetic_effects_non-ionizing.pdf
Magras & Xenos have reported irreversible sterility in mice after 5 generations of exposure to .168 to 1.053 microwatts per square centimeter in an "antenna park." http://www.ncbi.nlm.nih.gov/pubmed/9261543
Coates says that the current, applicable US exposure standard would be 579 microwatts per square centimeter, -- 500 times higher! -- And at this very low RF exposure level it relates more to a person living near a cellular tower, than a cell phone user.
RF Safe offers several very easy solutions for reducing cell phone radiation exposure.
Here is what RF Safe recommends for maximum cell phone radiation safety:
1) Replace the hands-free headset that came with your cell phone with an RF Safe Air-Tube Headset.
2) Use a RF Safe Pocket Shield or Smartphone Flip Case Radiation Shield to block phone radiation when carrying the cell phone near the body.
3) Use a Clamp on Ferrite Bead to reduce phone radiation traveling up a headset's wire.
To learn more about RF Safe, visit http://www.rfsafe.com.