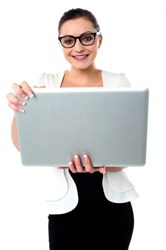 A must-read for stay-at-home parents looking to supplement their income, Lisa Kroulik provides all the tools not only for beginners, but for seasoned bloggers and other WAHMs looking to learn more about making better income.
Minneapolis, Minnesota (PRWEB) February 19, 2014
Before she found her stride as a freelance writer, Lisa Kroulik worked a variety of positions from home. Some of them include online selling, affiliate marketing, and working as a virtual assistant. Although she made plenty of mistakes, Kroulik still prefers the flexibility of working as an independent contractor to working for an employer. This guide is geared towards young moms who want to work from home in an effort to resolve the work/family dilemma. It is also useful for students, moonlighters, and others who desire flexible employment.
In her new book, Kroulik provides in-depth information about six different at-home jobs, most of which she has done herself. She also talks about self-employed taxes, setting up a home office, and the skills people need to work successfully at home. By the time the reader has completed the first chapter, he or she will notice the author's sincerity. There is only practical and useful information here, not a hint of the hype that can be common with books in this category.
PRODUCT DETAILS:
File Size: 1819 KB
Print Length: 98 pages
Simultaneous Device Usage: Unlimited
Sold by: Amazon Digital Services, Inc.
Language: English
ASIN: B00I5G7YFU
Text-to-Speech: Enabled
X-Ray:
Not Enabled
Lending: Enabled
$3.99 or free to Amazon Prime members
ABOUT THE AUTHOR
Lisa Kroulik is a freelance writer who enjoys writing about abuse recovery and self-employment issues. "Money Making Mamas" is her first publication in this genre. In 2013, she also released "Emotional Assault: Recognizing the Abusive Partner's Bag of Tricks" and "Invisible Witness: How Watching My Father Abuse Others Affected every Area of My Life". Lisa Kroulik is also available to meet your online content creation needs.