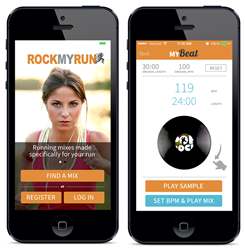 San Diego, CA (PRWEB) February 20, 2014
Rock My World Inc., the company behind the RockMyRun smartphone application providing The Best Running Music in the World™, today announced its myBeat™ technology is now available on both Android and iPhone devices. As the newest feature of the RockMyRun app, myBeat allows premium members to change the beats per minute (BPM) of any of the music mixes available on their platform from professional DJs, for enhanced workout personalization and customization.
The RockMyRun app offers carefully crafted, seamless mixes that are submitted by DJs and designed specifically for running and other high intensity workouts. With the addition of myBeat, RockMyRun is able to fine-tune the beat of the music to match an individual's pace, a quality that research has shown to boost performance and enjoyment. For example, research1 shows that BPM-tailored music can:

Increase your time to exhaustion up to 15 percent longer than normal
Decrease your oxygen needs by 7 percent while exerting yourself
Help you cover 2.1 percent more distance in the same amount of time
Help you experience more positive feelings about the workout
"myBeat lets our members personalize the BPM of RockMyRun mixes to match their pace, a quality that will help people enjoy runs more and will provide the motivation people need to achieve their goals," said Adam Riggs-Zeigen, co-founder and chief rocker for Rock My World. "By intelligently syncing music to the body Rock My World is redefining how a person experiences a workout, and myBeat is exciting first step as we continue to leverage music to motivate, inspire and push runners."
Prior to creating the RockMyRun app, which is available for iPhone and Android smartphones, Rock My World conducted hundreds of hours of interviews with runners, leading to the creation of a platform for top-rated DJs to publish mixes that will motivate athletes, workout enthusiasts and casual runners alike. The DJs that contribute to RockMyRun share the company's passion to motivate active individuals, providing their mixes to not only push individuals to reach their goals, but to promote their own musical talents and brand as well. Mixes are available across a range of genres, lengths and BPMs.
[1] "Effects of synchronous music on treadmill running among elite triathletes." Journal of Science and Medicine in Sport, 15, 52-57.
"Effects of music tempo upon submaximal cycling performance.", Scand J Med Sci Sports. 2010 Aug;20(4):662-9
Availability
RockMyRun is free, with the option to purchase a premium membership for additional features. RockMyRun is available immediately to download from the App Store and Google Play.
About Rock My World Inc.
Rock My World Inc. was founded with a passion for helping people stay fit through the intersection of music and technology. The company helps active people take their fitness to the next level and better enjoy their workouts, by providing the right audio with the right tempo at the right time.
To join the RockMyRun community, follow us at Twitter.com/RockMyRun and become a fan on Facebook at Facebook.com/RockMyRun.