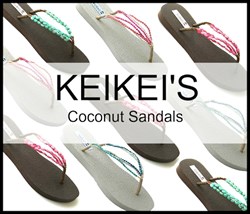 Keikei's flip flops unite function with style making them ideal for a trip to the beach, resort or a tropical cruise.
San Rafael, California (PRWEB) February 19, 2014
Sandals and flip-flops are a must for a warm weather vacation. Whether heading to a resort for a winter getaway, or embarking on a tropical cruise, a stylish pair of flip-flops or sandals will provide comfort and convenience for the traveler. SolEscapes proudly introduces a newcomer to their resort wear lineup: sandals and flip-flops by Keikei's Coconut Sandals.
SolEscapes carries a wide assortment of resort wear and accessories, such as women's sun hats, resort scarves and wraps, resort jewelry and sunglasses. The addition of sandals is a logical next step in offering a wide assortment of high-quality, stylish apparel for resort and cruise holidays. SolEscapes believes in products that unite function and style; and their new offering, Keikei's Coconut Sandals, definitely fit the bill.
Flip-flops and sandals are ideal for a trip to the beach, a tropical cruise or a warm weather resort retreat. Ever beach-friendly, sandals are forgiving when walking in the sand, and can be easily slipped off when it's time to wade in the surf. Their open designs help to keep the feet cool in balmy weather. Sandals are lightweight and compact, meaning it's easy to pack a few pair in your suitcase.
Styling sandals and flip-flops is a breeze. A flip-flop in a neutral tone, such as the Pukalit Sandals in Natural can be worn in a variety of ways. A casual outfit, such as shorts and a t-shirt, in most any color combination is easily paired with these cute flip-flops. Or for a night out, pair them with a dress for a simple but elegant look – the metallic detail will shine in this dressier adaptation. A brightly colored pair of flip-flops can liven up neutral colored, travel-friendly clothing. A pair of Mother of Pearl Sandals in bright pink could be worn with a solid color such as white or black. Add a gorgeous resort scarf in complementary colors, such as Gottex's Aztec, and it's a stunning outfit.
Keikei's Coconut Sandals were born from a trip to the Philippines, where company founders Meg and Ryan David encountered the idea of coconuts as footwear. They embarked on a journey of finding the right combination of beauty, comfort, durability and coconuts; resulting in Keikei's Coconut Sandals. Their flip-flops are handmade using natural materials such as coconut, shell and wood combined with a lightweight EVA/Rubber sole. They are comfortable, stylish, and perfect for a resort or cruise vacation.
SolEscapes is a California based online boutique offering a unique selection of stylish and practical sun, beach and resort essentials for all warm weather needs. SolEscapes offers personalized service, high quality products and fast, affordable shipping. Merchandise, including all beach hats, is carefully and beautifully packaged to ensure a perfect arrival. For more information, please visit SolEscapes.com. You can also connect with SolEscapes on Facebook, Twitter and Pinterest.