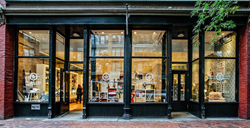 Arkiv; a new digital collection of wallpapers available for preview online.
Vancouver, British Columbia (PRWEB) February 20, 2014
Örling & Wu, a home decor Vancouver boutique in BC, has recently announced the introduction of Arkiv; a new digital collection of wallpapers available for preview online. The collection is provided by designer Sandberg Arkiv. The line of wallpapers are perfect for home decor enthusiasts looking for a refreshing and unique approach to indoor decoration.
Designing Services
With their team of talented interior designers, Örling & Wu also provides home makeover services along with products. Company representative will do the planning on their client's request by visiting the home that needs designing services and analyzing the living spaces, illumination, room shapes and other intricacies. Once the interior designer has assessed the home, they will collaborate with the homeowner to come up with an exciting plan to improve the look of the home.
Örling & Wu services do not end with planning; interior designers by the company will also help clients implement the look that has been decided on. Using certified construction workers, plumbers, carpenters and high quality products by Örling & Wu, the company will give the home a makeover for the New Year.
About Örling & Wu
A boutique retailer established in 2009 in Vancouver, Örling & Wu offers distinctively designed home furnishings and urban luxuries. With its fresh selection of mostly first-in-Canada products, Örling & Wu seeks to bring the latest home decor, and style to everyday moments, which makes the company the definitive shopping destination in Vancouver. The elaborate designs and detailed finishing by Örling & Wu products have appeared in House & Home, Style at Home, Elle Décor USA and other renowned magazines.
For more information on the company, log on to http://orlingandwu.com/.