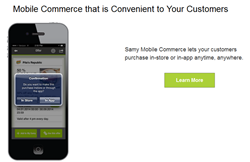 The Samy network is already a leading supplier of mobile offer/coupon redemptions and brand loyalty
Sarasota, FL (PRWEB) February 18, 2014
MobileBits Corp., (OTCQB: MBIT), provider of Samy™, a leading mobile marketing and loyalty network, today announced its intention to offer in-app mobile commerce for its for bricks and mortar retailers. In addition to driving in-store product redemptions, Samy will now offer retailers the option of enabling in-app mobile payment; making it easier for consumers to make purchases whenever and wherever they decide.
The Samy network is already a leading supplier of mobile offer/coupon redemptions and brand loyalty; driving almost 30 million transactions to date and closing in on its first billion in total aggregate sales value for its merchant advertisers.
"We are closely monitoring the evolution of mobile pay. We see a number of companies vying for retailer acceptance - those steaming outward from commerce by adding POS value like Square and Shopify to social and mobile engagement networks like Facebook, Twitter, Yelp and Samy aiming at selling ads for performance," said Walter Kostiuk, President & CEO of MobileBits. "Samy is different because it provides a mobile store for every retailer to help market and publish offers, coupons and products to local consumers who choose to follow the retailer before they get access to savings on their mobile devices."
To help retailers, MobileBits plans to offer optional in-app mobile pay functionality with Stripe. This adds to its already low risk, high value in-store coupon/offer redemption platform where retailers can create and manage their own mobile store through the Samy Administration panel.
Samy seeks to provide retailers a choice when it comes to mobile commerce with additional mobile pay partners planned to be announced in the future. Additionally, retailers can already choose to deploy or integrate gift cards and/or loyalty cards through Samy add-ons with technology alliances such as Givex Corporation, announced last year.
Samy powers thousands of bricks and mortar retailers and brands helping them connect with local consumers and drive engagement across many different types of industries including quick-service restaurants (QSR), full service restaurants (FSR) and wide variety retail businesses.
To learn more about Samy, visit http://www.samy.com.
About MobileBits Corporation
MobileBits is the provider of Samy, a leading mobile marketing and loyalty solution that drives engagement between brick and mortar retailers and consumers. Samy delivers consumer engagement on a pay for performance (CPA) basis and provides businesses with the tools to create, manage and measure mobile commerce through a proprietary mobile CRM software.
To learn more about what Samy can do for your business, visit http://www.samy.com.
Forward-Looking Safe Harbor Statement:
This press release contains forward-looking statements that are made pursuant to the safe harbor provisions of the Private Securities Litigation Reform Act of 1995. By their nature, forward-looking statements and forecasts involve risks and uncertainties because they relate to events and depend on circumstances that will occur in the near future. There are a number of factors that could cause actual results and developments to differ materially from forecasted results. These risks and uncertainties include our ability to: attract end users; attract advertisers; our ability to successfully implement our current long-term growth strategy; as well as product demand, market competition, fluctuations in advertising payouts, delays in website & application development, technical issues beyond our control, reliance on the various platforms that we build applications on, and risks inherent in our operations. For a discussion of these risks and uncertainties, please see our filings with the Securities and Exchange Commission. Our public filings with the SEC are available from commercial document retrieval services and at the website maintained by the SEC at http://www.sec.gov.