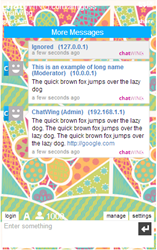 Tucson, AZ (PRWEB) February 20, 2014
Chatwing's Rich Text Editor allows the chatters a more flexible way of chatting, so to speak. They can add more color to their conversations by adding more emoticons, changing the colors and composition of the fonts. Another thing the editor does is that it'll allow the chatters to use HTML links on the chat room software. It is also possible to put videos and images on the chatroom through the use of these links – the user can activate this function on the Dashboard page.
Making use of this website chat room feature will create a big impact on the chat app chatters as it will give them a whole new perspective of chatting. By giving it a more artistic approach, the user can start up a very lively and colorful exchange of images which will surely draw in more people inside. The user need not worry about the chatroom being flooded with images though, as he can easily manage it by using his rights as the administrator.
The Chatwing chat software developers are making progress in improving the chat software and are doing it in great strides. Just recently, they have officially released the Android version of the chat software – users can find the app in GooglePlay. The app is also free so it's literally up for grabs for everyone who wants to chat with their friends in style.
About Chatwing.com
Chatwing.com is a company that has brought innovation to the modern chat widget. Operating for more than five years now, Chatwing and its team of developers have dozens of ideas ready to be introduced to the public. The Chatwing chat app is an easy-to-use online tool that can help web users interact with each other and can also generate continuous traffic. Chatwing will always be a freemium application for everyone.