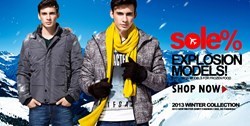 (PRWEB) February 18, 2014
Skmen.com is a reliable web shop that offers various kinds of trendy clothes. Recently, the supplier has announced its new range of designer men's suits. Also, it has launched a special offer on these high quality suits. At present, all these new clothes are available at discounted prices, up to 36% off.
The Company's Statement
"As we all know, spring is a significant sales season. We want to show our appreciation to worldwide customers and expand our online market by launching the current promotion. What's more, we hope to receive public awareness. Our website is a good place where worldwide clients can find a huge selection of affordable clothes," the CEO of the company says.
As a pioneer in the industry, Skmen.com provides worldwide people with hundreds of fashionable products. The special offer is valid for a limited item only. Gentlemen who are in need of quality designer men's suits should visit its website as soon as possible.
The Hottest Designs
The hottest designs in the company's new collection include: 3-Ruler Spring Fashionable Suit, 3-Ruler Classic Unsymmetrical Design Two Button Slim Fit Casual Suit and 3-Ruler Spring Fashionable One Button Casual Suit.
The additional information about the 3-Ruler Spring Fashionable One Button Casual Suit is as follows:
Occasions: Casual
Fabric: Other
Season: Autumn, spring
Color: Black, light blue
Size: M, L, XL, XXL
Wash Notes: Wash by hand in 30 degree Celsius water, hang to dry, avoid bleaching.
About Skmen.com
Skmen.com, a China-based company founded in 2009, is one of the leading suppliers of men's and women's high quality clothes. It has more than 5000 customers from every part of the world; it hopes to help worldwide stylish ladies and gentlemen. For more detailed information about the company and its wonderful items, readers can visit http://www.skmen.com/product-men-s-suits-009009.aspx.