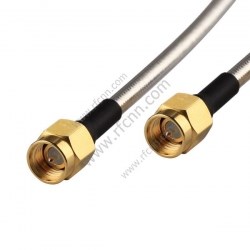 (PRWEB) February 18, 2014
Recently, RFcnn.com, the well-known SMA product manufacturer and retailer, has launched a special offer on its practical SMA cable assemblies. All the company's brand new assemblies are now offered at discounted prices, up to 31% off.
The Company's Statement
According to the CEO of the company, the special offer will be valid until the end of this month. "We are happy to launch the promotion for worldwide distributors. At the moment, we are offering a huge selection of SMA cable assemblies at our online shop. All of them are in stock and ready to ship. I have confidence in our new products, for RFcnn.com one of the industry leaders in the world. The excellence of our company has been supported with lots of facts and figures," he says.
According to the CEO, "SMA" stands for "SubMiniature version A". All the SMA cable assemblies from RFcnn.com are of high quality. RFcnn.com's quality checks and standards are very strict.
The Hottest Designs
The best-selling item in the company's fresh selection is named SMA Male to Male 18GHz RG402 Coaxial Cable Jumper. Here are some details about this product:
Part No : SMA.CS.011
Connector Series: SMA TO SMA
Connector Type: Male
Contact Termination: Solder
Shield Termination: Crimp
Impedance: 75 Ohm
Mounting Type: Free Hanging
Cable Group: RG402
Fastening Type : Thread
Frequency – Max: DC-3GHz
Body Material: Brass
Body Finish : Nickel
Center Contact Material: Brass
Center Contact Finish: Gold
Dielectric Material: Polytetrafluorethylene (PTFE)
Voltage Rating: 375V
Working Temperature: -65°C ~ 165°C
Application: Aerospace, Defense, Telecom, Broadcast, Industrial, Medical, Instrumentation.
About RFcnn.com
RFcnn.com is an online shop of high end devices. It is a China based company that aims to provide customers with high quality products at the lowest possible prices. Customers can try the company's products through sample orders with a long-term contract. Most customers come back soon after receiving their first deals.
More details about the company's useful products can be found at http://www.rfcnn.com/SMA-Male-to-Male-18GHz-RG402-Coaxial-Cable-Jumper-430.html.