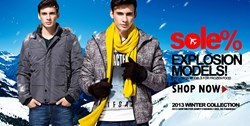 (PRWEB) February 19, 2014
Recently, Skmen.com, China's well-known clothing manufacturer and retailer, has announced its new options of cheap men's shirts. In other words, all the company's newly-released men's shirts come with big discounts (up to 34% off). All clients throughout the world can access the big savings before March 1, 2014.
The Company's Statement
True enough, Skmen.com is a famous company that has been specializing in the clothing industry for a long time. Along with the fashionable clothes, it also provides worldwide gentlemen with an easy, relaxed and comfortable shopping experience. The supplier is looking forward to a greater success in the coming months.
"We are proud to release our new products. All the cheap men's shirts are made from grade-A materials. We have updated our website with these brand new clothes. The special offer can save hundreds of dollars for worldwide clients; it is a great opportunity for those who want to buy quality shirts at affordable prices," the CEO of the company states.
The Hottest Designs
The most popular items are: 3-Ruler Men's Casual FireBrick V-Neck Embroidery Shoulder Board Patch Long Sleeves Shirt, 3-Ruler Men's Cheap Crewneck Long Sleeves Two-Tone Color Shirt-Black and Beige and 3-Ruler Men's White Slim Fit V Neck Hooded Long Sleeves Shirt.
The followings are some details about the 3-Ruler Men's Casual FireBrick V-Neck Embroidery Shoulder Board Patch Long Sleeves Shirt:
Occasions: Casual
Color: FireBrick
Fabric: Cotton
Season: Spring, Fall, Winter
Wash Notes: Wash by hand in 30 degree Celsius water, hang to dry, avoid bleaching.
Size: L,XL,XXL,XXXL
About Skmen.com
Skmen.com, a China-based company founded in 2009, is one of the leading suppliers of men's and women's high quality clothes. It has more than 5000 customers from every part of the world; it hopes to help worldwide stylish ladies and gentlemen. For more detailed information about the company and its wonderful items, readers can visit http://www.skmen.com/product-men-s-shirts-009001.aspx.