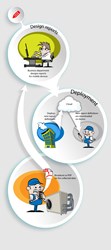 It is the only existing reporting library that can be used on-the-go, and offline, to create professionally-designed pdf reports without the need for programming.
(PRWEB) February 21, 2014
Switzerland-based software company, Open Software Solutions, has scored a first: It has developed PDFReporter (http://www.pdfreporting.com), a reporting library that generates PDF reports from data on Android and iOS mobile devices.
Magnus Karlsson, one of the creators of PDFReporter, explains what makes this software special, "It is the only existing reporting library that can be used on-the-go, and offline, to create professionally-designed pdf reports without the need for programming.
"These can be sent from mobile devices to co-workers or customers as an immediate, user-friendly, actionable report. This ease of reporting offers a huge range of business benefits."
Soft-launched in December 2013, PDFReporter is now being brought to a wide market and used by professionals in a number of industries, including property management, facility management, insurance providers and the transport and cargo industries.
How PDFReporter Works
By integrating the PDFReporter library into their app solution, any business can design reports relevant to them that can then be generated within minutes on their mobile device.
Data can be formatted, filtered, sorted, or organized in any way that provides helpful insights. It can then be saved as an xml file, uploaded to the Cloud, or sent by email, to share with colleagues or customers.
This software has 4 exceptional strengths:
+ Speed of development integration
+ Low maintenance costs
+ Easy-to-design reports
+ No need for app updates
A Brilliant Solution To A Persistent Problem
Data collected in the field on a mobile device is the start of sound business intelligence, but it has no value until it's transformed into an insightful report.
Traditionally, custom-coded reporting solutions on mobile devices…
+ Cost a lot of money
+ Are complex to use
+ Take time + patience to master
PDFReporter strips away the cost and complexity and enables businesses to create meaningful reports quickly. By integrating this innovative software into their app, businesses can…
+ Broadcast any report on a mobile device
+ Connect data to reports without any coding
+ Create reports from collected data in real time
+ Generate reports while working offline
+ Design new reports without any app updates
Real Business Benefits
Reports generated by PDFReporter enable businesses to…
+ Deepen their understanding of their business' performance
+ Make informed decisions + optimize their business constantly
+ Inspire greater confidence in clients + prospects
How Can Businesses Use PDFReporter?
There are limitless applications for this reporting library. For instance…
+ The gas service man can use it to create a maintenance report in real-time, which he can email as a pdf document quickly + effortlessly
+ The kitchen salesman can use it to generate an on-the-spot estimate to inspire buyer confidence + facilitate a quick sale
+ The medical professional is using it to record and display patient data in a well-presented report for easy analysis
Any business that needs to visualize and analyze data, report it to co-workers, or share it with clients, needs a system that makes the process user-friendly and efficient. PDFReporter is the definitive answer.