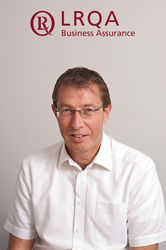 this makes our broad service portfolio - including our range of certification and assessment services around the recently launched ISO 55001 - easier to navigate
(PRWEB UK) 19 February 2014
The International Organisation for Standardisation has recently launched ISO 55001. This new international standard - which was introduced to the market in January 2014 - specifies the requirements for the establishment, implementation, maintenance and improvement of a management system for asset management, referred to as an "asset management system".
ISO 55001 can be applied to any organisation where physical assets are central to their business. This has been proven very successful, with widespread adoption in utilities, transport, mining and manufacturing industries worldwide and is primarily intended for use by:
— those involved in the establishment, implementation, maintenance and improvement of an asset management system;
— those involved in delivering asset management activities and service providers;
— internal and external parties to assess the organisation's ability to meet legal, regulatory and contractual requirements and the organisation's own requirements.
Incorporating Annex SL, the common text and structure being standardised across all of the ISO standards as part of the revision process, ISO 55001 focuses heavily on risk management.
Risk management runs at the heart of asset management, an area which the four streams of the Lloyd's Register Group (LR) possess deep technical insight, which can be connected to the strategic thinking and leadership of an organisation. In December 2013, LRQA, as part of the LR Group launched their new brand identity. The mark is built on the original LR stamp from over 250 years ago and reflects LR's commitment to independence, technical excellence and public benefit. "The new logo is a device that links all the members in our group together," said David Lawson, LRQA Technical Director. "As a result, this makes our broad service portfolio - including our range of certification and assessment services around the recently launched ISO 55001 - easier to navigate, thereby enabling us to continue to deliver value to existing and potential clients around the world."
Further information about the ISO Standard Revisions - to include blogs and round table discussions - will appear on http://www.lrqa.com/isostandardsupdate. Alternatively, please email enquiries(at)lrqa(dot)com.