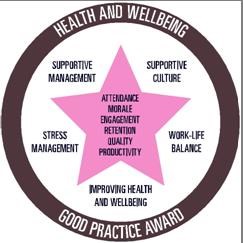 Investors in People is encouraging businesses to consider how they treat their staff to ensure they have the happiest and most productive workforce.
London, UK (PRWEB UK) 19 February 2014
Britain's workers are feeling unloved by their employers, a new survey by Investors in People has found. Over half (54%) of full-time employees feel their employer doesn't care about their health and wellbeing, as long as they get the job done*.
Of those who stated their employer doesn't care about their health and wellbeing, half (48%) say it has led to them feeling less motivated, with a third stating they have considered looking for a new job as a result. What's more, over one in ten (13%) admitted they don't work as hard, and a further 15% said they actually resent their employer.
The survey also provides a warning to employers who don't invest in staff wellbeing, with more than one in five workers having 'pulled a sickie' in the last year, and more than one in twenty (6%) doing so more than five times.
Over a quarter (29%) of employees in the UK are unhappy in their job, and as overall job satisfaction decreases, the number of sick days taken goes up. Those who described themselves as happy in their role were less likely to take 'sickies', than those who described themselves as unhappy, with almost three in 10 (27%) of unhappy workers having embellished the truth about being ill to take a day off on at least one occasion, compared with 20% of contented employees.
Whilst it is clear that some employees feel disengaged in their role, genuine illness also accounts for staff absences, with 46% of employees taking at least a day off work due to a cold, flu or a stomach bug. Other reasons for taking a sick day included suffering from a physical injury (21%) and a recurring condition such as a migraine (20%).
However, the research shows that over half (51%) of those questioned said the health and wellbeing benefits offered by their employer improve their overall job satisfaction.
Respondents stated that flexible hours (43%) were the top health and wellbeing benefit which makes or would make them feel most satisfied and valued in their role. This was closely followed by health insurance (41%) and dental insurance (23%). One in ten employees said they would have greater job satisfaction with the opportunity for a career break/sabbatical (10%).
But it isn't just grand gestures and costly practices which help to boost attitudes to work – even easy to implement measures have an impact on employees' health and wellbeing, with one in ten workers stating that job satisfaction is or could be improved with complimentary fresh fruit (10%) in the office.
With eight out of ten (80%) people saying they would feel more positive towards their employer if they offered better health and wellbeing benefits, the research suggests that by improving some simple health and wellbeing practices, businesses could reduce the number of 'sickies' taken by staff.
Paul Devoy, Head of Investors in People, said: "Organisations need to see staff health and wellbeing as crucial to their business and staff retention. Our research shows that happier staff are less likely to take time off sick. What's more, companies offering health and wellbeing perks will see real business benefits. But they don't have to be costly – desk posture assessment and support or complimentary fresh fruit in the office can have real positive impact on an employee's health and make them feel valued. Investors in People is encouraging businesses to consider how they treat their staff to ensure they have the happiest and most productive workforce." Investors in People has launched a free health and wellbeing tool to help businesses find out what more they should be doing for their staff, and how their business could benefit as a result. To find out more, visit http://www.investorsinpeople.co.uk.
Ends
For media enquiries, contact: Emma Parrish - emma.parrish(at)kindredagency(dot)com / 020 7010 0818
Hollie Rendall – hollie.rendall(at)kindredagency(dot)com / 020 7010 0829
Notes to editors
*Survey carried out by Censuswide. 3009 full time employees in the UK were surveyed online between 1-11 February 2014.
About Investors in People

Investors in People makes people management excellence count. They exist to help businesses realise the potential of their people, improve standards and gain the accreditation to prove it.
Through the respected Standard, business insight and the IIP bank of tools and resources, organisations of all shapes and sizes can put their people first – and discover a brighter business future.
Over the last 20 years, IIP has helped more than 100,000 businesses around the world improve, using their Accreditation Framework to boost working culture, increase
employee engagement and encourage game-changing leadership.
Investors in People is owned and managed by the UK Commission for Employment and Skills, an executive non-departmental public body of the Department for Business, Innovation and Skills.