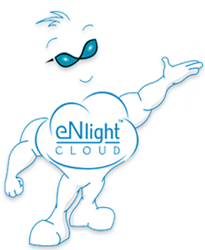 "We will not stop the pace of innovation in eNlight Cloud. We want to see it as a universal platform for web hosting" - Probal DasGupta, CEO at bodHOST
Edison, New Jersey (PRWEB) February 20, 2014
Popular web hosting company bodHOST Ltd. today announced their plans to focus more on eNlight Cloud in 2014 and increase its reach globally to as many users as possible. The company recognizes the importance of the fact that online businesses have to keep looking for cost effective solutions without compromising on the quality of service and eNlight Cloud is capable of addressing this concern.
According to the company, eNlight Cloud based virtual machines represent an ideal environment for users with businesses that require an online presence. Similar to a dedicated server environment, users can install a control panel such as Plesk or cPanel for easy website management and also retain complete control over their server environment with administrator privileges. On the other hand, their end users / customers can enjoy the speed, reliability and scalability offered by eNlight Cloud. Should any website hosted on eNlight Cloud VM require more resources or experience spikes in load, this wouldn't have any impact on the performance of VM as it would scale the resources in proportion to the required amount of resources and charge only according to the duration of usage.
The promising nature of eNlight cloud makes it a real alternative to traditional hosting solutions such as virtual private servers. Due to the restrictive nature of the traditional hosting plans, real-time resource scaling and cost optimization are never available as an option, however eNlight Cloud is a viable alternative that addresses these restrictions. With pre-defined limits on resources in traditional hosting, upgrade by paying extra is the only choice whereas with eNlight Cloud, the resources scale up and down in proportion to the demand. Websites and applications ideally suited for eNlight Cloud include:

A website that receives occasional traffic, for example, when new products or services are announced.
Applications and websites where usage can vary on hourly, daily or weekly basis.
A web site that receives short but sudden spikes in traffic.
Any of the above websites may experience performance bottlenecks or outage in such scenarios if hosted on a traditional hosting platform. Whilst eNlight can help with improving the performance and speed at which web pages are served to visitors, the platform lets users achieve this at a cost that is much more realistic for small businesses.
"If you are currently using a traditional hosting solution like VPS for your website and related services, then eNlight Cloud could be the perfect solution to let you expand your internet presence. With auto-scaling Virtual Machines and a cost: resources predictor tool that lets you predict costs based on your anticipated usage, eNlight represents a solution that saves money whilst offering a more powerful hosting service without compromising on uptime or security", said James Anderson of bodHOST Ltd.
To know more about what is Cloud? How does cloud computing help us? What are the different types of clouds? Check this - Demystifying Cloud Computing, shared by Probal DasGupta, CEO at bodHOST.com.
About bodHOST:
bodHOST, established in 1999, was one of the pioneers in web hosting in the U.S., and today manages almost 2 million domains worldwide, and offers a wide range of hosting solutions, both Cloud based (eNlight, VMware, and Hyper-V platforms), as well as traditional solutions like Dedicated Servers, Virtual Private Servers, Shared Servers, Server Mirroring Solutions, Load Balancing Servers and shared hosting services to businesses, professionals, and individuals. bodHOST continuously innovates in technology, and its eNlight Cloud provides auto-scaling for true pay-per-consume model unique in the industry at this moment. The company's latest foray is in the South American market with the establishment of a presence in Santiago, Chile.
Disclaimer: The names of actual companies and products mentioned herein may be the trademarks of their respective owners.
Media Contact:
Probal DasGupta
+1-516-690-6844